The search continues tonight on American Idol 2015 as Hollywood Week extends in to its second phase with more eliminations and the group performances arriving.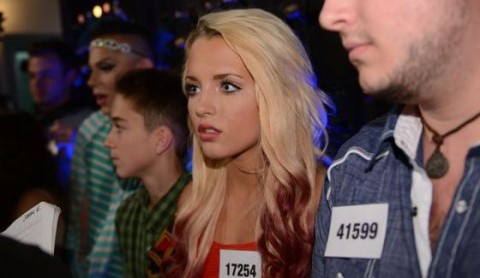 Earlier in Hollywood we saw thirty eight singers sent to safety while the remaining one hundred eighty sang for their Idol lives with more than half of them set for elimination. Tonight that journey continues with the conclusion of the solo performances and the debut of groups which look to be pretty great. Wouldn't that be nice for a change?
We're live blogging all of tonight's American Idol performances with videos and results throughout the show so stick with us and let's see how this episode goes!
Oh yes, the "drama continues," promises Ryan Seacrest as Hollywood picks back up with its solo performances. Last we saw was Gabby Zonneveld having a freak out moment as the cliffhanger from yesterday, but will she recover or crumble? Harry walks up on stage and escorts her off suggesting she take a short break, but Idol waits for no one.
Next up, Kelley Kime with her performance of "Don't" which doesn't come off as strong as her audition. Katherine Winston with "Wild Horses" earns a round of applause and Jennifer tells Harry it was better than she expected.
Gabby returns to the stage to give it another try after laughing off her earlier trouble. Definitely worth her coming back out and giving it another try, but she'll be waiting on the results with the rest of the group.
Jennifer announces Kelley, Jesse, Britney, Ricky, Alexis, Gabrielle, and Katherine to step forward. They've all made it on to the Groups round, while the rest of their singing batch are sent back home.
Lacking no confidence, Andrew Annello takes the stage with Amy Winehouse's "Valerie." He's a great singer and maybe an even better stage performer. Maddie Walker follows Andrew and does a great job at the challenge. Alexis Gomez takes on "Before He Cheats" while leaving the shoes at home.
Harry calls up Andrew and leaves the rest behind. Ouch, everyone but Andrew is through to the next round where they'll be singing with the other groups.
Back from the break we've got Cody Fry with "Lilac Wine" and he's through to the next round, but that quiet song is quickly offset by Loren Lott. She's singing "Radioactive" once she can finally stop wiggling and jiggling up on stage. Loren has a lot of energy and when Harry reveals that she's moving on she explodes with excitement.
New batch of singers here with Rayvon Owen and Shi Scott. Rayvon does a wonderful performance of "Ordinary People" while Shi shows off her power with "Mercy." This time it's Jennifer revealing the American Idol results to these Hopefuls.
Now a montage of performances including Clark Beckham with "Let's Get It On" and Daniel Seavey with "Thinking Out Loud." They've both made it on through to the next round.
Solo performances press on for tonight with Dakota Suarez, looking to be the first drag queen American Idol, but it really does not go well at all. Not at all. Oh but disappointment doesn't belong to him alone. Now we get a montage of painful performances. Ugh. This of course leads to the unfortunate overlap of tears outside the theater as cheers rush out in celebration.
Romance is in the air on American Idol 2015. Qaasim Middleton is practicing when Jax approaches and drooling over his good looks and gets herself a hug. Now it's his turn on stage and he's singing "Give Me Love" and why wouldn't he since it's a requirement to perform every Ed Sheeran song ever.
click images to see full-size views
It's time for the Group performances! Judges advise them to form teams of four and rehearse all night long to be ready in the morning. There is of course drama of a lone singer, but that's quickly resolved with Sal pulls Alexis in to their group.
Some groups quickly work out their plan and call it a night while others continue to struggle, natch. Wow, a few are still practicing just before 6AM as the buses are preparing to load up. I'll never understand why they don't get a day to do this, but there ya go.
Ryan explains that there will be no second chances and results will be handed out immediately after their performance. The pressure is on.
"Double Stuff," featuring J None, Clark Beckham, David Willis, and Jesse Cline, is up first and are struggling this morning in rehearsals after a smooth night. Luckily for them, and us, they work it out and "deliver" on their performance of "Signed, Sealed, Delivered."
click images to see full-size views
Jennifer says most of the harmonies were really beautiful. Harry says it was a great way to start the day. Keith says it was good, but there were inconsistencies. The Judges deliberate before announcing all four are through to the other side.
They can't all be so smooth though as the next quartet is worried about their readiness on "P.Y.T." Andrew Bloom, Big Ron Wilson, Adam Ezegelian, and Shi Scott are singing together for this performance.
Keith says it was tough for Andrew to keep up with Adam and Big Ron. Harry and Jennifer echo this idea highlighting that Andrew just couldn't keep up. Yep, the other three are through while Andrew is sent back home.
The next group is made up of young singers with Tyanna Jones, Maddy Hudson, Reno Anoa'i, and Steffi Ledbetter. Ouch. This is not good despite the guidance of Tyanna's mom who managed to not be that overpowering stage mom and appeared to actually be calming and supportive.
Harry tells the group they shouldn't be trying to out do each other like they did. Keith says the song was better suited for Tyanna and not for Steffi. Unfortunately for her, Steffi is eliminated while the rest are on through.
Back from the break we've got Sal and Jax's group which expanded to five after picking up Alexis, though she might not stick around for too much longer. Alexis is feeling ill and dizzy and requires medical attention.
Jumping to a stronger team, we've got "Team Dimples" featuring Jaq Mackenzie, Nick Fradiani, Michael Simeon, and Hunter Larsen singing "Rude." They're very well rehearsed and choreographed. The Judges are thrilled with how this turned out. Jennifer keeps exclaiming "I love this kid!" regarding Simeon.
Harry says they were all equal in their performance and just when it sounds like one of them will be eliminated all four all through to the next day's efforts.
Returning to the struggling group, "Gals & Sal," we quickly see that Alexis is definitely not okay after all. Alexis is stuttering and shaking on stage when she's escorted off to backstage while the Judges call for a break.
Can't wait to find out what happens next? We've got your American Idol Top 24 spoilers list revealing which Hollywood Hopefuls survive the upcoming eliminations.
Next week the Hollywood phase continues as the remaining singers will face drastic cuts so stick with us for even more results and updates. Join us on Facebook, Twitter, and by Email Updates to get the latest news then we'll see you for the next American Idol!