Bria Anai Johnson is one of the youngest contestants on American Idol 2014, but she's been performing out and about for years already. A student at the DeKalb School for the Arts in Atlanta, GA, Bria definitely has her sights set on stardom. When she isn't singing, she's acting, and when possible — doing both at the same time! Could we have another potential Grammy and Oscar-winning Jennifer Hudson on our hands?
American Idol Bria Johnson Audition:
Background:
As we mentioned above, Georgia native Bria Anai Johnson  is still currently in high school at the DeKalb School of the Arts in Atlanta, GA. For a girl who hopes to make singing and acting a career, this is definitely the kind of place you want to be. The school is a "public performing arts magnet" institution and some of its more famous alumni include Community star Donald Glover, and R&B singer Lloyd. Check out young Bria at just 13 years old belting it out back in 2010:
One of the productions Bria was recently involved in was some wild Fame-like musical called Superstar Dreamz, in which she played the part of nerd girl 'Helen Olivia Thompson.' The show was apparently quite the hit, even getting positive raves from Kandi Burrus of Real Housewives of Atlanta, Chuck Smith of the Atlanta Falcons, and R&B artist Keith Sweat.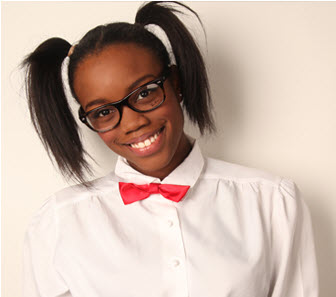 Among Bria's music likes on her Facebook page, Bria lists JFly The Flytrap, Ms. Farah-Lissa, RAHBI, Cri$style, and Starz among her likes. She's also a fan of "Glam Vix Fx Makeup Artistry," the "GoGo Party Bus" and, well, herself. In addition to her personal Facebook profile, she also has a fan page for herself up as well. Oh, and let's not forget American Idol. Bria is obviously a fan of that as well, and has more than a few posts about the show up on her feeds.
Bria Johnson isn't just a cover singer, she's also a songwriter, which seems to be a strong theme with many of the contestants this year. Maybe because Angie Miller was such a big hit with fans with her original song on the show? We'll be curious to see if American Idol does more of that with this season's contestants like Bria. Meanwhile, you can check out some of her originals on her Soundcloud page.
You can find plenty more videos of Bria Anai Johnson on her YouTube page if you'd like to listen to more.