Tonight on American Idol we'll see contestant Emmanuel Zidor perform "I'm Going Down" for his chance at becoming a Season 13 Top 30 finalist. Will he make it? Read on for spoilers and more details.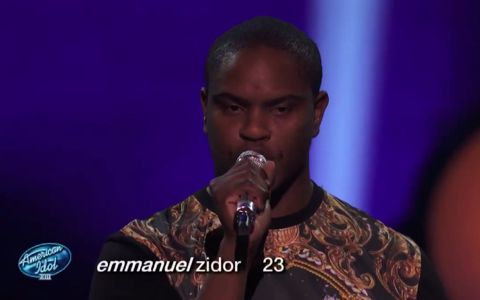 Emmanuel stood out during the earlier Hollywood rounds not only for his big personality but also for his incredible talent. Now that he's survived the Group Round drama with a difficult team member Emmanuel has a chance to shine on his own and impress the judges.
Zidor will be performing "I'm Going Down" during tonight's American Idol episode and from the preview clip below he won't be doing it without a little extra flair and fun. In the clip the judges joke with Emmanuel that he should hold a walk-off with Jennifer Lopez and both agree to the challenge. We're thinking he's ability to add some personality to the audition process probably won't be hurting his chances!
click images to see full-size
So how successful is Emmanuel on American Idol tonight? We've got the Top 30 spoilers for who makes it past Hollywood. Take a look at the semi-finalists list for Season 13 and see if Emmanuel's name is on the list!
Emmanuel Zidor – I'm Going Down – Hollywood Week: