Internet sensation Grumpy Cat (aka Tardar Sauce) invaded American Idol season 13 this week and no one could resist her adorable charms. How can you possibly not want to get your hands on a kitty this cute? Even if she does have the grumpiest face ever?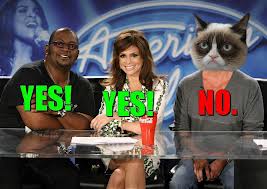 Not us! Which is why we just had to pull out one of our favorite Grumpy Cat American Idol memes for you above. We think she'd make a great Simon Cowell replacement, don't you?
Check out all the awesome pics of Grumpy Cat on American Idol this week! (Click the thumbnails for bigger pics or to scroll through.)
Grumpy Cat was all over American Idol 2014 this week and we were loving it. Host Ryan Seacrest was her personal chauffer. He and the American Idol judges all had to take Grumpy Cat selfies with Tadar Sauce. Even mentor Randy Jackson couldn't resist having a pic with the world's favorite frowning feline!