The American Idol results for the season 13 Top 5 finalists are here! It's been a hard fought battle for Caleb Johnson, Jena Irene Ascuitto, CJ Harris, Alex Preston, Jessica Meuse, and Sam Woolf to get this far. They've survived months of difficult performances and harsh critiques from American Idol 2014 judges Jennifer Lopez, Harry Connick Jr., and Keith Urban, as well as an onslaught of mass criticism from the viewers and press as well.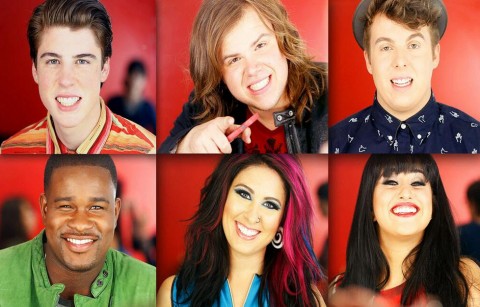 Now one of them will end up as the one who got voted off American Idol tonight, and the rest will earn the honor of being part of the season 13 final five. We'll be bringing you the results live in our American Idol recap right here as they happen!
Earlier today, we placed our bets on who we thought would be the one who went home on American Idol tonight based on the voting record so far and our readers' polls. We guessed it would be CJ Harris who ended up as the singer who was eliminated on American Idol this week. However, we have been making that prediction for several weeks now and he keeps managing to survive for another round.
Will CJ Harris finally be the singer who got kicked off American Idol tonight as so many have been predicting he would be for the last month? Or does he truly have nine lives like a cat and will make it through again? If CJ doesn't end up being the one who was voted off American Idol this week, who will it be instead? Jessica? Alex? Sam? Or even… (gasp) Caleb or Jena?
And here we go! Welcome to the American idol judges as they take the stage and… OMG Keith Urban actually finally wore a suit! Man looks pretty damn hot in a tie, we have to say…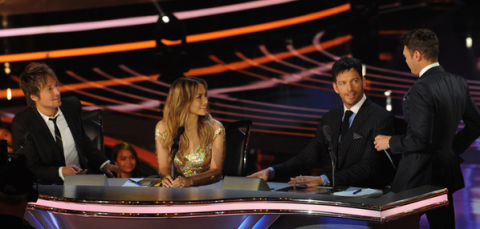 Moving on to the American Idol Top 6 and we have them once again chatting over dinner about their performances and the critiques from the judges. But we just want to get to the results please!
Commericials, commercials, and finally it is time for the first results of the night. Host Ryan Seacrest calls Caleb, Sam, and CJ up to the center of the stage to find out their fate tonight.
We find out the first person who is going to be safe tonight is… Sam Woolf! Well, it looks like that judges' save really did inspire his fans to keep his butt out of the fire for as long as possible.
Next up, the second person to be safe tonight, and this hardly comes as a surprise, is… Caleb Johnson!
Poor CJ Harris, however, is now going down to the bottom two.
More commercials and then we are back for another round of results with Alex, Jessica, and Jena. The first person announced as safe from this group is… Jena Ascuitto! Also safe tonight is… Alex Preston!
That means Jessica Meuse and CJ Harris are in the bottom two. We aren't really seeing how this is so "shocking" as American Idol tweeted it would be earlier today. We would be slightly surprised if Jess gets the boot, but certainly not shocked.
Even more commercials and we're dying over here to find out who is going home! Finally we are back and with just a few minutes to go we have a bunch of gab from Ryan and the judges, etc. Get on with it already and let's get to the final results!
And here we go. The bottom two are up, Jessica and CJ. Which one will be going home tonight?
Ryan has the results in hand and the person who was voted off American Idol this week is… CJ Harris!
Well, that was not a "shocking" result at all in our opinion. Looks like CJ's luck finally ran out. Guess Grumpy Cat was the only one with nine lives on the show this week!
Safe:
 Sam Woolf
Caleb Johnson
Jena Irene Ascuitto
Alex Preston
Bottom Two:
Eliminated: