On the American Idol performances show this week, the Top 6 faced a dual challenge as they attempt to conquer the genres of both country and rock n' roll. As always, we bring you all the action and performance videos in our American Idol 2014 recap, so come watch the show with us!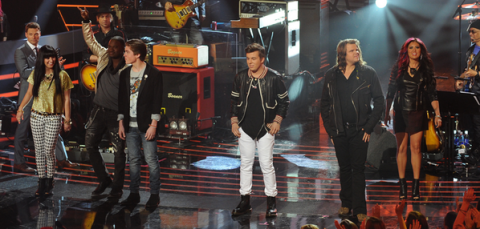 The song theme for American Idol this week was "a little bit country and a little bit rock n' roll." Each of the Top 6 finalists sang one song from each genre for the American Idol judges and viewers. From the song selections we saw in the American Idol spoilers for the show, it looked like we were in for quite the interesting night.
We were especially interested to see Caleb Johnson doing former American Idol winner Carrie Underwood's "Undo It,"  and Alex Preston taking on "Animal" by Neon Trees. Both of those seem like very intriguing selections. So did "American Woman" for CJ Harris. We have long wanted him to do something different, and that song was most certainly nothing like his usual style.
We were actually a little bit disappointed that Jena Irene picked "Barracuda" by Heart because we would have liked to have seen a more contemporary rock tune from her. However, we figured she was probably going to rock it regardless. And we were not so pleased at Jessica Meuse doing "Jolene," which has already been performed twice before on American Idol. It was also just so predictable of a choice for her,  that she could be putting herself in danger this week to go home.
Which of the American Idol Top 6 finalists showed tonight they can dish out the country and the rock n' roll in equal measure? Find out in our American Idol 2014 recap below!
Here we go… Welcome your Top 6 to the stage: Caleb Johnson, Jessica Meuse, Jena Irene Ascuitto, Sam Woolf, Alex Preston, and CJ Harris.
Up first we'll be getting our dose of rock n' roll for the evening, so let's get those performances rolling!
American Idol Performances: Top 6 (Rock n' Roll)
Jena Irene: "Barracuda" by Heart
Judges: Big applause and "wooos" from Keith Urban, who says it was a "great way to start" the evening. He thinks it was a perfect song for her voice and her range. A killer performance. The only thing he wants is for her to release it a bit more and cut loose. JLo says Jena has a real chance to get to the top in this competition and she just needs to push herself even more. Harry said it was great to hear that song and he was so happy to hear it. She was a perfect match for that song. It's going to take every single bit of edge though to win.
Sam Woolf: "It's Time" by Imagine Dragons
Judges: (This was his rock song? What?) The American Idol judges don't seem to care that this was NOT a rock song and Sam kept falling off pitch. JLo said she got "goosies" on that one. She said she believed him when he was singing that song and it is so important for the audience to feel him. He really came into his own as a performer. Harry said that was a great song for him. He could hear him singing that in concert or on his record. Keith said it was a good performance for him and there were a few really great moments where he really tapped into something special. He just wants Sam to release it even more.
C.J. Harris: "American Woman" by The Guess Who/Lenny Kravitz
Judges: Harry thought it was a good performance and he waits every week to see what he will do. He thought it was a good song choice but he still needs to be careful with singing in tune and focusing. "Pretty good CJ." Keith said this song is all attitude and CJ just had a disconnect with the song emotionally. JLo loved CJ's look and he looked the part. In the beginning it was shaky but it started to come together later.
Alex Preston: "Animal" by Neon Trees
Judges: (Also NOT a rock song drat it Alex!)  Keith said he felt like the band was kind of on top of Alex in that song and he just needs to release a bit more. JLo said she thought Alex did a good job but you expect so much with a song that loved and there was just something missing.  Harry said Alex is really consistent and a sensitive and thoughtful performer. He is so good all the time but it sounded like he couldn't get his breath or something and just couldn't get centered. But he really liked hearing an upbeat tune. Wasn't his best but still good.
Caleb Johnson: "Sting Me" by The Black Crowes
Judges: Caleb got JLo and Keith on their feet! (Not Harry though, because he won't stand for anyone, it's a thing.) The crowd is SCREAMING so loud the judges can't say anything for a long time. JLo finally says really loudly "that was some real rock n' roll." Amazing job and a "real moment" for Caleb. Harry said it was a perfect song choice coupled with an incredible performance and that's just virtually impossible to beat. Keith can't even believe how Caleb dropped his mic and recovered so well it was like it never even happened. Randy Jackson yells out "that's rock and roll right there!"
Jessica Meuse: "Somebody to Love" by Jefferson Airplane
Judges: Harry said Jess has a great voice and tonight she presented it in the strongest possible way. Nice job, she delivered. Keith said it was vocally strong and played to Jena's strengths. And Keith's new phrase is "a little more release." JLo said there needs to be a "freedom" to a performance and Jess needs to show she's feeling it more.
A quick peek at how the voting stands so far tonight really early on: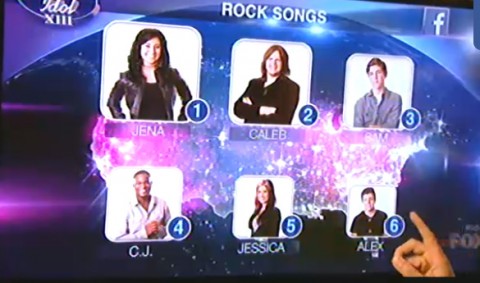 American Idol Performances: Top 6 (Country)
Sam Woolf: "You're Still the One" by Shania Twain
Judges: Keith said it was a good song for Sam lyrically. Sam just needs to relax more and ease into it. JLo said Sam is so cute  it is crazy. It was a good song for him and he sang it well. The more he can tap into his feelings though, the better he will become. Harry said Sam needs to not sing the song so "perfectly" on rhythm and needs to twist it up and make it his own.
Vote for Sam Woolf:
Caleb Johnson: "Undo It" by Carrie Underwood
Judges: JLo said Caleb's first performance was epic. The second one was really good, but just not quite as great as the first one. Harry said pretty  much the same. Keith joked that he can't wait to hear what "country" song Caleb is going to do later. We don't think they give Caleb enough love on this song, which we thought was awesome and so did everyone in our live Idol chat!
Vote for Caleb Johnson:
Alex Preston: "Always on My Mind" by Willie Nelson
Judges: Harry said it makes it a good night to have the feeling he has after hearing Alex sing that song. It was exactly what it should have been. It was beautiful and Alex is an artist. Terrific job. Keith said Alex has a very strong style and he always knows who he is. He would have liked a little more heartbreak in the performance though. JLo said it was a perfect balance of Alex and a great, beautiful song everyone loves.
Vote for Alex Preston:
Jena Irene: "So Small" by Carrie Underwood
Judges: Keith says "Jena baby, you are such a good singer!" He said she's everything Idol has always been about and she just gets better every week. JLo said sometimes when she is watching, the power of the vocal takes over, and that's what happened to her this time. She had the goosies again and it was very beautiful. Harry said the song didn't actually work for him, but she's so consistent and has so many fans, it doesn't even matter.
Vote for Jena Irene:
C.J. Harris: "Whatever It Is" by Zac Brown Band
Judges: JLo said she expected a tiny bit more from CJ tonight. The American Idol judges talk about song choice with CJ again. Harry said he just can't get away with song choices like this one again. Keith said he loves CJ as a person but the song was not a good choice. He said the song pulled him down and just made him sing sharp all the time.
Vote for CJ Harris:
Jessica Meuse: "Jolene" by Dolly Parton
Judges: Harry said Jess did it again, she really delivered. Nice job. Keith said Jess did a great job but he hated the arrangement. He didn't like the dark vibe and loves the way Dolly Parton does it. Harry jumps in and said he thought it was cool the way she did it. JLo said the vocal was really strong and she felt Jess connecting.
Vote for Jessica Meuse:
Don't forget to get in your votes tonight and make sure your favorite does not go home tomorrow!