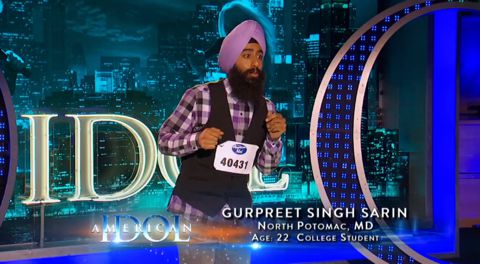 Working down our list and matching up the Top 40 finalists spoilers on American Idol 2013 brings us to Gurpreet Singh Sarin, a 22 year old student from Maryland. A quickly recognized and much discussed aspect of Gurpreet was his turban which earned him an extremely overdone segment parodying "The Terminator."
Once we got past that he went on to perform Maroon 5's "Sunday Morning" before Randy stopped him to ask if he'd perform India styled riffs which Gurpreet was happy to do.
The judges were split on this decision. Keith thought his voice was "a little too light this time around" but Mariah enjoyed that part and gave him a "yes." After Randy gives a "yes" they put the pressure on Keith and he folds. That's enough for Gurpreet Singh Sarin to move on to Hollywood.
Watch Gurpreet perform "Sunday Morning" as part of the American Idol 2013 auditions in New York.