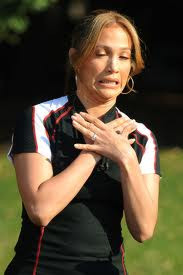 So much for the plans to have Jennifer Lopez become one of the new judges for American Idol 2011. I don't know why I didn't see this coming as an issue given Lopez history as an alleged diva, but Lopez has managed to demand her way out of the coveted job, says People:
The singer-actress had been closing a deal to be a permanent judge on the show for its upcoming 10th season but the deal fell apart.

"Her demands got out of hand," says the source. "Fox had just had enough."

But now that Lopez is out of the running, the network may be looking at their earlier top picks again.
J Lo would have been a nice addition to the panel as a change of pace with having someone with a little more industry relevance, but she sure showed them!
So now that both Lopez and Steven Tyler are allegedly out of the contest, who should American Idol 2011 pick up for two new judges?