American Idol 2014 runner-up Jena Irene Ascuitto may have waited until the very last minute to find a prom dress, but she already had her date lined up well in advance. Jena asked fellow American Idol finalists and new best friend Caleb Johnson to go with her to her senior prom weeks before the finale. He said yes, and the two are planning on dancing the night away together!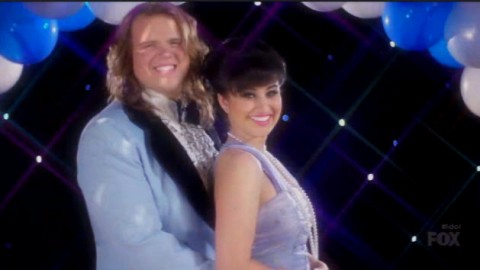 The whole prom date originally started out as horeseplaybetween Caleb and Jena months ago when she was wondering if she would even get to attend. As the prom date neared, Jena realized that not only did she not have a dress, she also didn't have a date. So she jokingly asked Caleb if he would take her to prom, and he said of course!
The whole idea of the two American Idol finalists going to prom together (just as friends – he's 22, she's 17) quickly caught on with fans and American Idol producers. First Caleb and Jena re-enacted her prom proposal in front of the cameras, then the show did a whole fake prom video of them going from sweet smiles to a crazed battle in the American Idol finale.
From fake prom to real prom, the two are heading out to North Farmington, MI this week to attend Jena Irene's high school prom on May 28. "Me and Caleb are flying in," Jena said, according to the Observer & Eccentric. "It's going to be interesting."
"I think we're like the same person, except I have boobs and he doesn't. We're like the same person. We have the same personality," Jena told Zap2It.com back when she asked Caleb to go to prom with her. "He just makes me laugh so much and we just have the same sense of humor — it's kind of dirty and twisted.
"It's going to be so much fun," Caleb Johnson told People. "We're going to cause a lot of trouble. Probably p*** a lot of people off!"