She may be currently competing to be the next American Idol winner, but Jena Irene Ascuitto is also still a teenager girl dreaming about her upcoming senior prom! What lucky guy will be taking this stunning singer on his arm to one of the biggest events of her young life? Why, it looks like it may be none other than fellow American Idol 2014 finalist Caleb Johnson!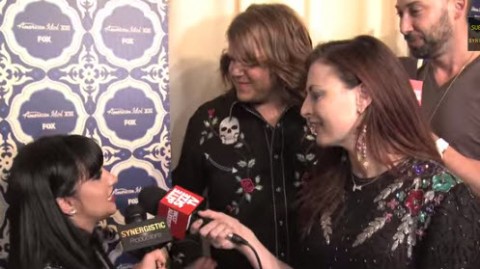 As we reported last week, Jena Irene would love to take rocker Caleb to her senior prom back in Michigan. "Prom is May 30th for my school, so I hope we get to go. We've been talking about it for, like, months," Jena Irene told reporters last week. She and Caleb even did a mock re-enactment of their 'prom-posal' moment for the cameras!

Caleb said he told Jena he would take her and they have a "prom promise I'd go with her" if one or both of them don't get tied up by post-American Idol winner press duties, of course. Which, honestly, appears to be pretty likely to happen, considering Caleb and Jena Irene are pretty much rivals for most likely to win at this point in the competition.
No worries though for anyone who thinks Caleb at 22 is a bit too old for 17-year-old Jena Irene to take to the prom! They aren't going the 'romantic' thing, they are just really good friends.