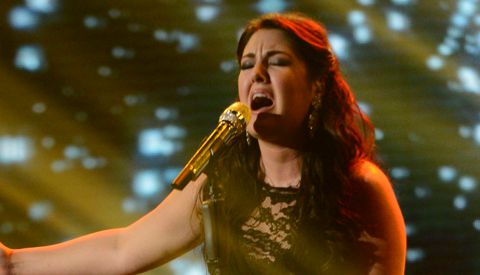 Is Kree Harrison going home tonight on American Idol? According to our poll, and several others we've seen out there, these may be Kree's last competitive performances on the Season 12 stage.
After battling all season and even wandering in to the danger zone during results nights Kree has delivered solid performances week after week. Now we're at the point where someone has to go and with just three singers left we can't help but watch someone with incredible talent eliminated.
According to the judges, Kree struggled with production's choice of "Better Dig Two." Unfortunately this performance was her final one of the night. That's not the best way to end things as viewers prepare to vote for their favorites from the Top 3.
Maybe I'm wrong along with the poll and its indicators that Kree Harrison will be eliminated tonight on American Idol, just steps away from the season finale. Watch her Top 3 performances and see if you think Kree will make it past tonight.
Kree Harrison performs "Perfect"
Kree Harrison performs "Here Comes Goodbye"
Kree Harrison performs "Better Dig Two"