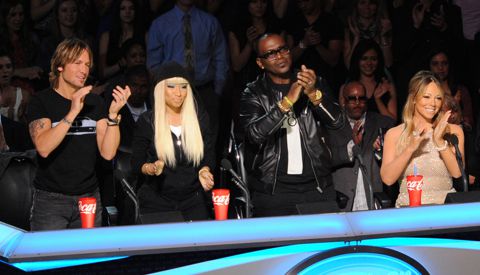 Who will go home tonight on American Idol 2013? Let's review your votes in our weekly poll, compare them to a few others out there, and see if we can accurately predict the Top 3 elimination for Season 12.
Angie Miller, Candice Glover, and Kree Harrison remain as the Season 12 Top 3 performers. All are amazingly talented, they wouldn't still be here if they weren't, but one of them will be going home.
According to our Top 3 performance poll readers are overwhelmingly supporting Candice Glover this time around. This morning she held 43% of the vote. Nearly half of all votes have gone to her so far! Wow. That's an incredible feat with so much talent in the competition.
Holding second place in our poll is Angie Miller with 34%, just over a third of all votes. Honestly I expected this round to be Angie's to lose considering her record of having never hit the bottom danger zone, but clearly fans were moved more strongly by Candice's performances than Angie's. Then again, there's nothing at all wrong with second place out of three especially when it puts you in the finale.
Sadly for Kree Harrison and her fans we're seeing her place third this week. With 22% of the vote she has less than a quarter of all votes and roughly half of Candice's numbers. Song choice and delivery could be the culprit this week for Kree as we suspect she faces elimination.
How do these numbers compare to others out there? According to MJs, Candice and Angie lead with Kree in third place with 27% of the vote for their "favorite contestant" poll. Then you've got Rickey's poll putting Kree in third place for popularity with 23% of the vote there. See a pattern here?
Three separate polls putting Kree Harrison in the hot seat is not encouraging for her fans. Combine that with Branden's elimination prediction that we'll be saying goodbye to Kree tonight and I can't help but agree with everyone on this.
Who do you think is going home tonight on American Idol 2013?