American Idol 2014 Top 8 finalist Malaya Watson couldn't help the tears as she sang her final song on the show after being eliminated this week. Neither could American Idol judges Jennifer Lopez, who was visibly upset over Malaya being voted off the show.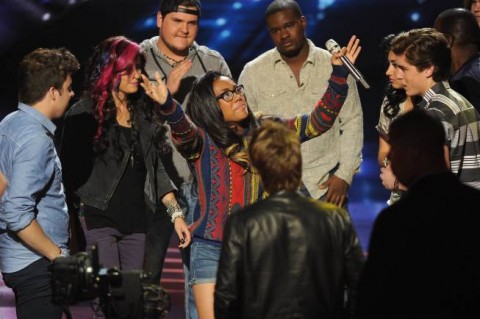 Most of the predictions out there thsi week  in the fan polls and from fan bloggers had Sam Woolf, Dexter Roberts, or CJ Harris as the person going home this week. We predicted it would finally be CJ Harris, who seems to have somehow acquired nine lives on American Idol season 13. Having Malaya voted off instead came as something as a shock to many viewers, especially her loyal fans.
Malaya's American Idol 2014 road may have ended with a few tears as she sang her exit song of "I Am Changing" from Dreamgirls, but her smile soon returned. Even though her American Idol journey came to a sudden end this week, Malaya Watson is overjoyed at the experience of being on the show.
"I'm 16!" Malaya said, according to Zap2It.com. "What kid can say 'I sang in front of Harry Connick [JR.], J-Lo and worked with Rickey Minor? … It was just a big opportunity that not a lot of people can experience, and with me being just a child it's pretty cool."
Malaya has the wisdom to know she's still young and has a lot of work ahead of her to make her dreams come true. Meanwhile, however, she's not going to give up the childhood she loves in the pursuit of fame. She plans to go back to high school, get back into band and play her tuba, and enjoy time with her friends and family.
"I did what I wanted to do and I'm glad I came out doing what I like. Thanks, guys. You guys are the best, and just stay tuned because I'm not done. I'm not done," Malaya Watson told reporters after her elimination.