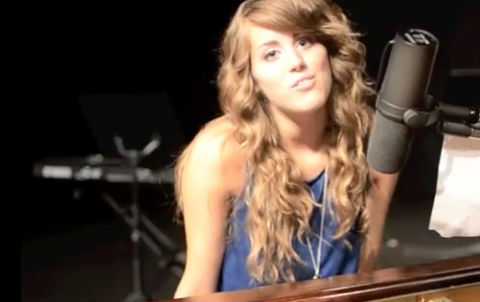 Since the American Idol 2013 Top 40 spoilers started circulating, we've been digging through the Internet so you can get a head start on getting to know these potential Idol hopefuls.
Here we've got Angie Kristine Miller, who is rumored to be one of the girls among the Top 40.
If the reports are true, this would be Angie's first shot at American Idol.
Check her out covering Beyone's "Listen"  and Katy Perry's "Wide Awake" below. She sounds very Broadway to me. So on one hand, I think she might not be right for American Idol, but then on the other, I think she might have the right kind of theatrics and strong voice that Idol loves.
Angie, 18, has her own YouTube channel filled with her versions of popular songs by Taylor Swift, Katy Perry and more.
Do you think Angie has what it takes to be the next American Idol?
Remember these are just rumors. And even if the Top 40 rumors are true, that does not mean that they'll make to the live shows or any other format American Idol might be observing this year.