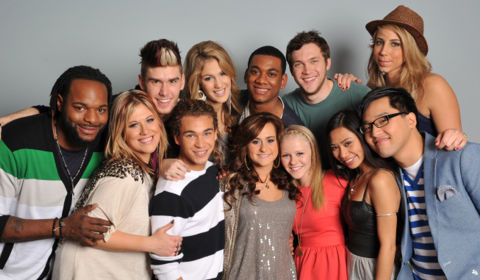 Meet your American Idol 2012 Top 12! After last night's not-surprising-at-all results where Jeremy Rosado was eliminated from the competition the finalists pool was whittled down to the season's final twelve singers.
Despite Jennifer Lopez's complaint during last night's show that America got it wrong, I think we've got an excellent group of singers left in the race to become the next American Idol. Of course if these polls continue on in this direction then production can just hand the crown over to Jessica Sanchez right now.
American Idol 2012 Top 12 Finalists:
DeAndre Brackensick
Hollie Cavanagh
Colton Dixon
Heejun Han
Jermaine Jones
Skylar Laine
Joshua Ledet
Shannon Magrane
Phillp Phillips
Jessica Sanchez
Elise Testone
Erika Van Pelt
No word yet from American Idol production on next week's theme, but what we do know is that this crowd of finalists and their judges will be looking good. Idol has hired on Tommy Hilfiger as the season's "Image Advisor." I'm not kidding. FOX says, "Hilfiger will mentor the contestants to define their performance identities and help guide their style transformations as they fight for their chance to become the next AMERICAN IDOL." Hopefully that doesn't include filmed segments to be mixed in on the live shows, but you know how American Idol loves filler content.
Are you excited for these American Idol 2012 finalists?