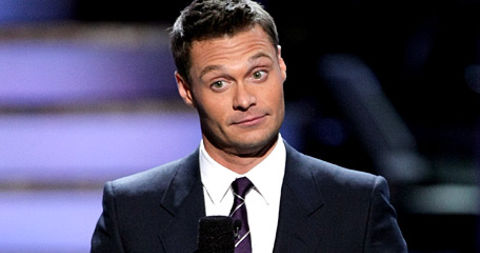 Three weeks ago Ryan Seacrest went on The Today Show to discuss his upcoming Olympics role as a decathlon champion reporter when he mentioned his plans to stay with American Idol. Today that plan is official. Ryan Seacrest has just signed a new deal with FOX's top show that will keep him in place for another two years as Idol's host.
In a press release from Fox Ryan noted, "For the last 11 seasons, I've had the privilege to be a part of one of television's most iconic shows. It's been a wild ride, and I'm excited for my journey with AMERICAN IDOL to continue."
THR reports that Ryan will earn $15 million a year as host. This would match his previous three-year, $45 million contract. Not too shabby at all.
Fox's brass is equally excited to keep the man with that big smile right where he is as the show continues to struggle in its ratings:
"Ryan is one of a kind," added Mike Darnell, President of Alternative Entertainment, Fox Broadcasting Company. "His ability to engage the viewers, keep the contestants at ease during intense moments and adapt to any situation, especially during the live shows, solidifies him as the absolute best in the business. He is an integral part of why AMERICAN IDOL is a true phenomenon, and we can't imagine doing this show without him."
You can watch Ryan's interview from The Today Show where he reaffirms his commitment to the place where he became a household name.