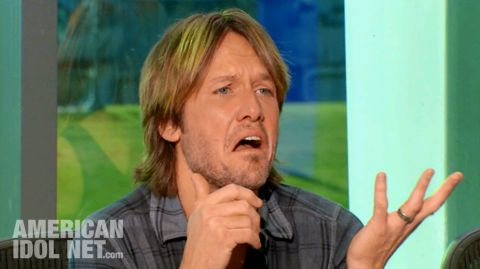 So far this season on American Idol we've seen four cities on the judges' auditions tour and there has been a ton of talent. Some of that talent is drawing a lot more views than others when it comes to their view counts on the official Idol YouTube channel. Here's a look at the Top 5 auditions from American Idol 2013 based on those views.
#5 – Kez Ban – "Pinocchio" & "Azure Sky" – 307.5K+ views
Out of the Chicago auditions came Kez Ban, an aspiring performer on several fronts who admittedly knew she wasn't destined to win the competition but still wow'd the judges and audiences alike. While maybe not the best performer we saw that night, her combination of personality and artistic style made her a fan favorite.
Following her audition airing on FOX Kez released a full version of her original song "Azure Sky" and promises to get more content on her YouTube channel soon.
While she may have hit the top of the charts online, it seems her trip through the American Idol machine is short this season. Based on the spoilers we do not expect to see her make it past Hollywood.
#4 – Stephanie Schimel – "Dream a Little Dream of Me" – 308.1K+ views
Stephanie won over three of the judges and more than three hundred thousand views with her "Dream" performance which was more than enough to land her a ticket on to Hollywood.
Unfortunately for Stephanie Schimel fans there may not be many more opportunities to watch her giggle onscreen this season of the spoilers are true.
#3 – Summer Cunningham – "Lean On Me" – 326.8K+ views
Was Summer that great a singer or was the drama surrounding her performance of "Lean On Me" what brought viewers to Ms. Cunningham's audition? Tough to tell but it was enough to earn her the third highest ranking to beat out Kez Ban and Schimel.
Summer should have plenty of time later to decide what sort of artist she wants to be, but I'm guessing she won't ask any of these judges to help her make that decision.
#2 – Gurpreet Singh Sarin – "Sunday Morning" – 368K+ views
His turban earned him a segment as the "Turbanator" but his voice earned him a Golden Ticket. Gurpreet Sarin surprised the judges with his smooth voice and even humored Randy's request for riffing as it all came together for a trip to Hollywood.
Gurpreet is actually the first on this list to also be on the rumored American Idol 2013 Top 40 spoilers list. We're expecting to see him become part of the Top 20 guys and move on past Hollywood for a chance at making it to the live shows.
#1 – Lazaro Arbos – "Bridge Over Troubled Waters" – 1.7M+ views
It wasn't even close when it came to the number one spot on the Top 5 auditions so far this season. Lazaro Arbos is the standout favorite when it comes to online hits of his audition performance of "Bridge Over Troubled Waters" with over 1.7 million views.
The 21-year old ice cream scooper out of Naples, Florida had as touching a performance as his backstory which American Idol is known for these days. Fortunately for his fans, we're set to see even more of Lazaro as his journey continues past Hollywood and, I'd be willing to wager, far in to this season.
Which performances out of the American Idol 2013 auditions so far have been your favorite? Would you have picked a different Top 5? Share this list with your friends and then share your thoughts below.