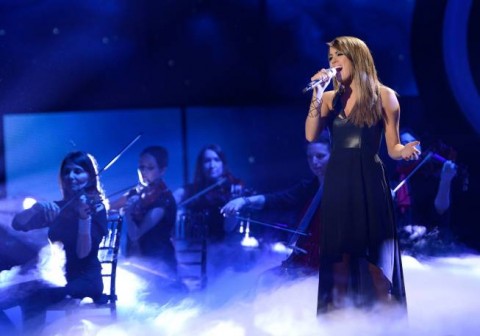 Tonight on American Idol 2013, a twist was unleashed on the show which resulted in no one going home. So Candice, Kree, Amber and Angie are all still in the game.
OK, so that's not so much a twist as it is the judges refused to use their save so the show was left with an extra week. But whatever, that's good news for the Top 4. Bad news for Janelle Arthur. They could've just used it last week and let her stick around an extra week.
It's always fun to see how Twitter reacts to these sorts of surprises, so I've compiled some of the most interesting tweets following Idol's surprise announcement.
American Idol folks:
Because of the save, we have an extra week. Your votes aren't wasted, last night's votes will be combined with next week's. #idolsurprise — @AmericanIdol
I'm Confused -___- #Idol — Burnell Taylor
Praise God that no one went home! But dang….this show stresses me out lol. #idolsurprise — Devin Velez
I KNEW IT!!!!! — Curtis Finch Jr
shocked?! #idolsurprise — Ryan Seacrest
Twitter users:
Heres what I think happened. Candice got voted off and producers know she's a favorite so they fixed it to keep her. Thoughts? #idol
Why did I just watch a results show with no results?! #Idol
I am placing my bets on Candice to win, but now it can be anybody's game. All 4 have star potential #idol
#idolsurprise glad they didn't go home but still mad because amber was in the bottom 2. Do people not have ears?
And even though they acted surprised, Nicki Minaj's pre-show tweet indicates they may have known what was ahead:
Idol will be shocking tonite. That's all I can say. Tune in now — @nickiminaj