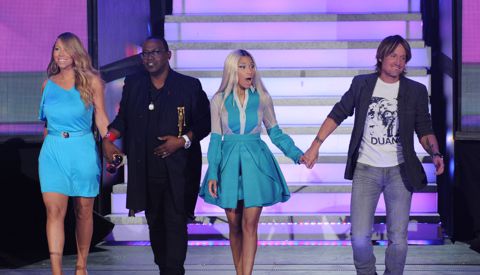 The news of who went home tonight on American Idol 2013 is about to be revealed as part of Thursday's results show featuring the Top 7 finalists.
Later tonight on FOX, starting at 8PM ET/PT, as part of the one-hour episode the final seven performers will face an elimination where one more singer will be sent home.
Along with those results, the show will feature performances by Carrie Underwood and Casey James. The season 4 winner, Underwood, will be singing her new single "See You Again" while Casey, a season 9 finalist, will perform "The Good Life."
As for our Idol prediction, it'll be either Burnell Taylor or Lazaro Arbos. Readers have voted Burnell in to bottom place with Lazaro ahead by just two points which is a narrow margin to spare. In either of those two cases, we do not believe the Judges' Save will be put in to play.
To find out who was voted off tonight on American Idol check back here for the latest results when we live blog the news.
Update: Read our live American Idol recap for who went home tonight!
Source: American Idol News