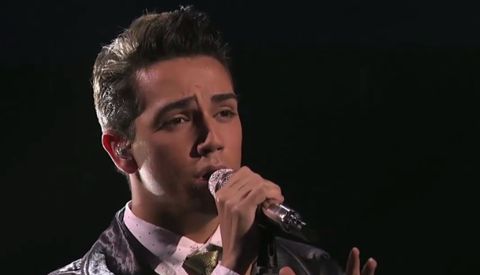 Tonight the American Idol results will reveal the Season 12 Top 6 finalists as another Hopeful is cut from the competition and sent home just weeks away from the season finale. By the end of the night we'll have a new group of singers and one of them will join the ranks of the American Idol winners.
Readers have predicted it will be Burnell Taylor though Lazaro Arbos is just steps away in our unofficial, though surprisingly accurate, weekly performance poll.
Be sure to stick around for our live blog American Idol recap of tonight's show plus performances by Carrie Underwood and Casey James!
Idol is trying something new tonight. They're giving us the judges top 3 singers based on their own picks. Keith picks Kree, Angie, and Amber. Nicki selects Angie, Amber, and Kree. Nicki reveals she didn't know this list would be revealed to everyone when she gave that list to executive producer Nigel Lythgoe. Randy has a similar set with Amber, Kree, and Angie for his top 3. Finally, Mariah names Kree, Amber, and Candice for her three favorites. Candice only showed up in the one list there with Mariah, but almost all agreed she'd be in their top four list.
American Idol 2013 Top 7 – Top 3:
WOW! Jimmy Iovine said America would only get it right this week if they sent Lazaro home, but look at that. Did America make the right choice? Your votes in our poll say they did not. Can anything stop Lazaro Arbos from reaching the finale?
With Lazaro out of the danger zone I'd predict that we're about to say goodbye to Burnell by the end of the night. If that's the case then the judges will not use their Save.
American Idol 2013 Top 7 – Bottom 2:
Who Got Voted Off American Idol Tonight – Results:
Will the judges use their Save? Doubtful, but let's see what they decide. Nope, they will not save Burnell and he is voted off American Idol 2013 tonight.
Safe Singers & The American Idol 2013 Top 6:
Kree Harrison
Angie Miller
Lazaro Arbos
Janelle Arthur
What do you think of tonight's results for American Idol 2013? Did your favorite make the cut?