This is the finale week of American Idol 2014 for Season 13 as we approach the big reveal of who will win American Idol!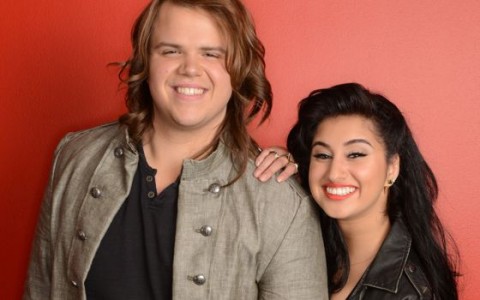 This final week has a special schedule starting Tuesday night at 8PM when Caleb Johnson and Jena Irene as the season's Top 2 take the stage in the very last performance show of the season. Instead of a normal Wednesday show routine FOX is moving everything up one night early.
Tuesday's show will run one full hour and feature one last round of performances by the American Idol 2014 Top 2: Caleb and Jena Irene. Along with their other selected songs we'll hear Caleb sing his would-be winner's single "As Long As You Still Love Me" along with Jena Irene's potential coronation song "We Are One." Whichever one of them wins will release that song as their first single later this year.
As for performance order, according to FOX, Jena Irene won the coin-toss and decided to go first in the competition. She's yielded the pimp spot at the close of the night to Caleb. It's an interesting choice.
Then on Wednesday night, the American Idol 2014 finale show begins at 8PM ET/PT and as always we'll be here covering it live with all the results for you. The two-hour special will feature a huge line up of special performers and duets with this season's finalists. Adjust your DVRs as the results show runs until 10:06PM!
FOX announced we'll be seeing Lady Antebellum, Aloe Blacc, KISS, John Legend, Demi Lovato, Jason Mraz, Jennifer Nettles, Paramore, Phillip Phillips and Darius Rucker. Jena Irene will duet with Paramore, Caleb with KISS, and Alex with Mraz. This looks like it could be an awesome American Idol finale!
Be sure to join us on Facebook & Twitter for the latest Idol updates!
The American Idol season is almost over. Who do you want to see win? Vote in our poll now!