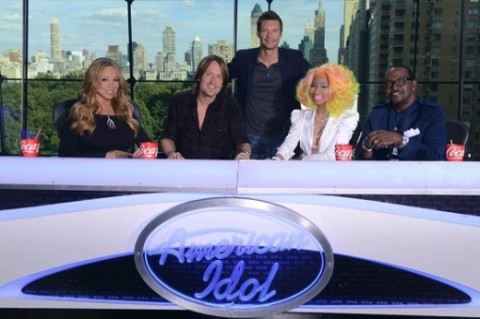 It's official. The American Idol 2013 judging panel is Randy Jackson, Mariah Carey, Nicki Minaj and Keith Urban.
I am thrilled about this year's judges' panel!" said Mike Darnell, president of alternative entertainment for Fox. "We've got global icon Mariah Carey and Idol's heart and soul Randy Jackson, who will be joined by Nicki Minaj and Keith Urban."
"Nicki's an unbelievably captivating international phenomenon who has made an indelible mark on rap and pop," he continued. "And Keith is another great addition to Idol – he's one of the biggest stars in country music and I know that our fans and contestants will fall in love with him. With an unparalleled star like Mariah, fan-favorite Randy, chart-toppers like Nicki and Keith and our incomparable host Ryan, we've put together one of the most exciting judging panels around."
It's going to be an interesting season come January with this interesting mixture of judges. And they've gone back to four. Which seems to be the popular format among the other singing competition shows.
How do you feel about the official four judges for American Idol 2013?