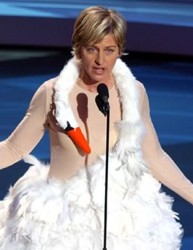 Paula Abdul, who quit American Idol, has been officially replaced for American Idol 2010. Fox announced today that Ellen DeGeneres will be the new 4th judge on the upcoming season of Idol starting January:
Ellen DeGeneres is dancing her way into the fourth judge's seat on "American Idol." Fox announced Wednesday the talk show host and comedian, who admittedly has no formal music experience other than a passion for tunes, would join Simon Cowell, Randy Jackson and Kara DioGuardi for the ninth season starting in January.

"Hopefully, I'm the people's point of view because I'm just like you," DeGeneres said on her show. "I sit at home and I watch it, and I don't have that technical … I'm not looking at it in a critical way from the producer's mind. I'm looking at it as a person who is going to buy the music and is going to relate to that person."
While a series of guest judges including Neil Patrick Harris, Katy Perry, and Victoria Beckham, filled in for Abdul during the audition phase no one had yet been named as the official, regular season replacement. Looks like Fox and Abdul won't be going back to the bargaining table.
What do you think of Ellen joining Idol this year? With no musical experience she's a stark contrast to Abdul's background, but could that be a good thing?
Source: AP