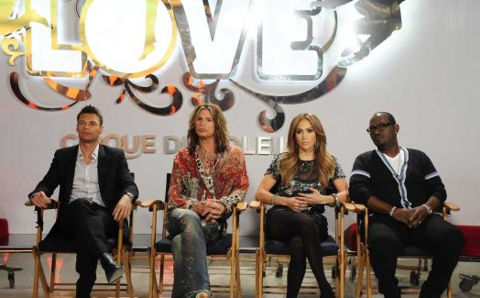 Update: Nigel has announced that tonight's plan for a 2-hour Vegas show has been scuttled. Instead we'll get one hour of Vegas and then switch over to the first hour of the Green Mile episode scheduled for tonight. Don't worry, you'll still get 2 hours both nights. Green Mile will just run a full 3-hours over two nights!
Las Vegas, here comes American Idol! In a new addition to the live show build-up, the series will be taking its Hopefuls to Sin City where they'll continue to sing for their Idol lives on the set of Cirque du Soleil's Beatles' show, "Love."
Of course, this portion of the season remains pre-recorded and what happened in Vegas doesn't necessarily stay in Vegas. If you're anxiously awaiting who makes the cut tonight and who leaves in tears then wait no longer. All those Las Vegas spoilers can be found right here. Heck, we can even let you know who gets paired up for tonight's performances if you really want to be in the Idol-know!
If you're not taking a peak at the spoilers, then who do you who to see make it through the next round? Branden's made his wish list for Vegas. Who is on yours?