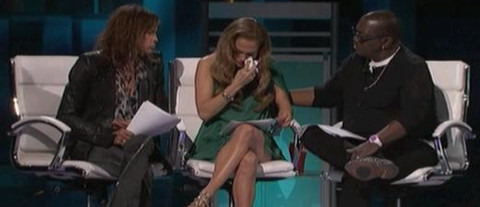 Live Update: Join other fans in the Idol chat room during tonight's show!
I hope you're ready for two more hours of American Idol's long awaited Green Mile Top 24 (spoilers here) episode tonight. After last night's planned 2-hour Vegas episode was cut in half to make way for more Green Mile we'll end up with a full three hours of arguing judges and crying Idol hopefuls.
If you missed last night's Vegas + Green Mile episode, then check out Branden's recap of the whole thing including who was cut and who made it on to the Top 24.
Have you joined us on Facebook yet? Join in the fun and share your thoughts!
Cutting out half of last night's original Vegas show was disappointing as I was looking forward to the performances, but I guess they're going to take us where the action is. Action being tears and drama of course, but action none the less. I'm guessing part of the show changes included cutting out most of the "redemption performances." We got to see a few of those clips for some of the Hopefuls, but not much and not for all of them. (And you thought this was a singing competition??)
Most of the cuts and next-rounders weren't too surprising and I've gotta say that I was glad to see Chris Medina go while I'm looking forward to hearing more from Paul McDonald. As for the whole "can JLo struggle to continue sitting in a chair?" drama, yeah, I'm thinking her American Idol 2011 multi-million dollar contract will help keep her in that center seat for the rest of the eliminations.
Were any of your favorites cut last night? Who are you most anxious to see confirmed either way tonight?