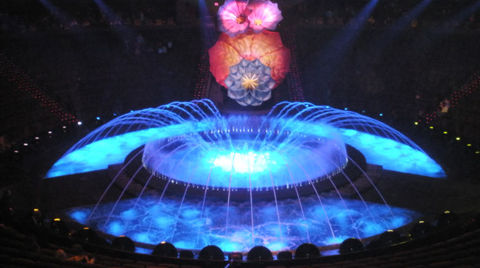 American Idol 2012 hopefuls who make it through the Hollywood Weeks will take a journey to Las Vegas. Previously we heard a cryptic message saying Idol Hopefuls better not mind getting wet which now makes sense considering they were performing at The Wynn's Le Reve stage as seen in the picture above.
Originally it was reported the Vegas round would be set at Cirque Du Soleil's "Immortal" stage featuring Michael Jackson's catalog. For whatever reason things shifted over to 1950's music because that's far more relevant, right?? Read on for your American Idol spoilers from the Las Vegas round.
Songs were randomly assigned, but all were selected from the 1950's theme. No word yet on just what songs were selected for the Hopefuls, but, once again thanks to The Idol Pad, we have the alleged groups.
Las Vegas groups included, but not limited to:
Amber Caparas, Brittany Hammond, Lauren Daigle
Ariel Sprague, David Leathers
Ashley Robles, Stephanie Renae, Wayne Wilson
Brielle Von Hugel, Schyler Dixon
Courtney Williams, Brittnee Kellogg
Eben Franckewitz, Elise Testone, Haley Johnsen, Reed Grimm
Johnny Keyser, Scott Dangerfield
Only one American Idol group was reported to have received a standing ovation. Those singers included Eben Franckewitz, Elise Testone, Haley Johnsen, and Reed Grimm.
Then there were supposedly a few quick eliminations as a result of their performances in Sin City:
Gabrielle Carrubba
Johnny Keyser
Schyler Dixon
There will be even more American Idol spoilers coming soon for the season's Top 24 so keep an eye on the site for more news.