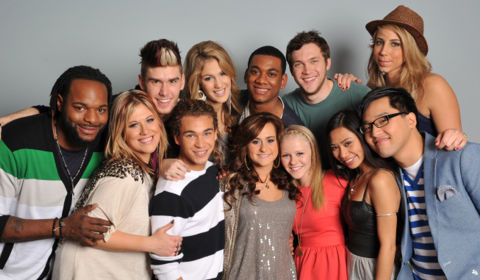 Did I say American Idol 2012 Top 12 performances in the headline? Err. I meant Top 11. At least I think I do. We're still waiting on the official word from FOX as they approach tonight's worst kept secret regarding the disqualification of one of the season's Top 12 Idol Hopefuls. The dismissed singer allegedly went back home and will not appear on stage tonight which should only leave us with 11 singers. Maybe FOX will surprise us with something, but considering tonight's song list spoilers contained only 11 titles I think we're safe to assume there will be no other big surprises. Well, aside from the "shocking" disqualification, of course.
See what other American Idol fans are saying right now on our Idol Facebook page and join us in our Idol chat room while we review tonight's live show.
Ryan Seacrest immediately confirmed that "with the help of law enforcement" one of the singers was disqualified and sent home. Oh but they'll wait to play that footage later in the show (Update: watch the clip here). Of course they will. Eventually Idol gets to this part of the show and sure enough, Jermaine Jones is gone and done. Nigel said they can't have singers with outstanding warrants, so even if he had told the truth upfront it wouldn't have mattered.
Ryan confirms there will still be an elimination on Thursday's results show. Well, kinda. Seacrest said the singer with the lowest votes will "be at risk of elimination." That means either no elimination because of Jermaine's departure or the Judges Save could emerge again. Or maybe I'm reading too much in to it.
American Idol 2012 Top 12 Performances:
Phillip Phillips – Hard to Handle – 1-866-436-5701
Jessica Sanchez – Turn the Beat Around – 1-866-436-5702
Heejun Han – Right Here Waiting – 1-866-436-5703
Elise Testone – Let's Stay Together – 1-866-436-5704
DeAndre Brackensick – Endless Love – 1-866-436-5705
Shannon Magrane – One Sweet Day – 1-866-436-5706
Colton Dixon – Broken Heart – 1-866-436-5707
Erika Van Pelt – Heaven – 1-866-436-5708
Skylar Laine – Love Sneakin' Up On You – 1-866-436-5709
Joshua Ledet – When A Man Loves A Woman – 1-866-436-5710
Hollie Cavanagh – The Power of Love – 1-866-436-5711
We've got a poll below for your favorite American Idol singer of the night. Share your thoughts in the comments section below!