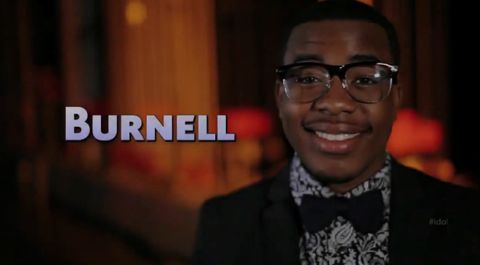 The American Idol 2013 Top 20 takes to the stage in the "rapid fire" rounds this week, but before we get there, I've still got to sum up last week's best of the best.
I think the guys were actually better this time around, but don't tell the Idol producers that. I really, really like Burnell Taylor, which means he'll probably get cut next week. So yeah. He tops my list this week.
Burnell Taylor, "This Time." I don't know exactly what it is about this guy's voice, but I love it. I almost never have a reaction to an American Idol performance like I did with this. I love how effortless his voice is. It just kind of flows from him. And he's believable. I can't wait to hear more from him and I hope America responds as well as I have
Vincent Powell, "Cause I Love You." Vincent had arguably one of the best performances for the guys so far this season with this one. Most of the guys from last week were lackluster, then he took the stage and set the bar very high.
Candice Glover, "Natural Woman." I was happy to hear Candice singing a classic song because I think of her as more a classic singer. I hope she continues to be this kind of performing. I think fans are loving her and that she will definitely make it into the Top 10 this week.
Favorite performance that resulted in elimination: Bryant Tadeo. I still don't think he should have been cut. I think the judges made a terrible decision.
Who were your favorites from last week's American Idol 2013 Sudden Death rounds?