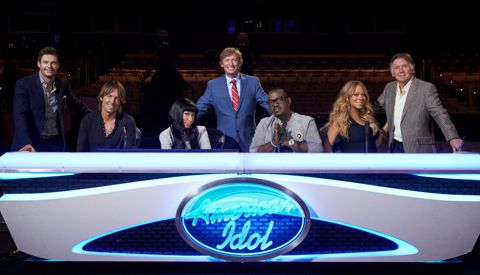 The American Idol 2013 Top 20 Hopefuls may have just been crowned but they better not get too comfortable because next week is going to be a rapid fire whirlwind of performances and eliminations.
Starting next Tuesday, March 5th at 8PM the Top 20 will be split again by sexes with the first ten singers, either girls or the guys, performing live on the American Idol stage. Then the following night, Wednesday, the other group, again either the girls or the guys, will perform for your votes.
While the original American Idol 2013 schedule indicates the boys will perform first we saw this same plan for the Las Vegas rounds and that was clearly reversed. If I had to guess we'll see the girls go on first in another production push to put the ladies first and foremost in our minds and not those pesky boys that keep winning.
On Thursday night, after two back-to-back nights of two-hour episodes, we'll get a 90-minute results show where half of all the singers will be cut and sent home. The American Idol 2013 singers who survive will form our Top 10. From there we'll be down to weekly performances and single eliminations.
The season will press on until we arrive at an early finale week on May 15th & 16th when the last two singers perform and then the American Idol 2013 winner is revealed. One of these singers will be the next Idol!