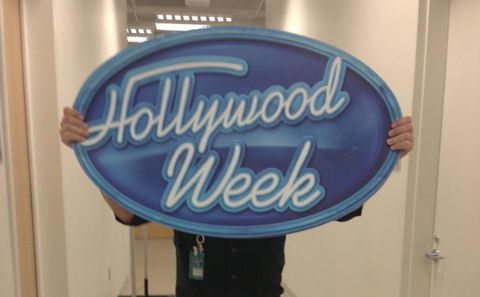 If Hollywood was going to make an "American Idol 2013" movie, and after the incredible success of "From Justin to Kelly" I'm shocked they haven't!, then who do you think should play each of the finalists?
The Season 12 singers took a moment to share their wishlists for who would play their onscreen characters. Candice Glover wants Queen Latifah in her role, "I think she would do a really good job. I love her!" Recently eliminated finalist Devin Velez hopes for Justin Timberlake "just because he's handsome." Angie Miller would like Jennifer Lawrence to cover her onscreen role because of "how powerful she is." The wishlist goes on and on.
Now what about the judges? We don't get to hear their requests, but I'd like to see Al Pacino do it. For all of them. What? No good? Well then maybe just for Nicki Minaj. Still no good? Fine, but can we at least get a blooper reel of him slamming the table with his open hand and shouting explosive phrases?
American Idol 2013 Finalists' Movie Star Wishes – Video:
What do you think of their suggestions? Kree Harrison's was hilariously spot-on. Not even knowing the actresses name I knew who she meant before she named the show.
Let's hear your Hollywood cast list for the American Idol 2013 movie.
Source: AmericanIdol.com & Twitter