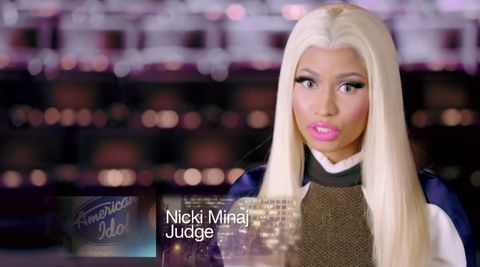 Nicki Minaj has been without a doubt the most divisive judge to date in American Idol's 12 year history. (With the possible exception of Simon Cowell)
In an interview this week, Nicki said "I know everybody's just going to hate me."
I don't know about "hate", but Nicki's outspoken manner and often seemingly inappropriate remarks has definitely triggered vigorous debate and strong opinions, for and against, from American Idol viewers.
"I didn't realize that maybe I am a bit strange", she said, referring to her on-air proposal to Top 8 contestant, Kree Harrison. "I'm just surprised at the way people react to things that I see as very normal".
A classic Nicki comment occurred Wednesday night when the 3 remaining guys in the Top 8, Burnell, Devin and Lazaro sang "Sugar Pie Honey Bunch". After their group performance, fraught with the sort of problems last seen during the group round of Hollywood Week, she shouted out that she was going to "pretend she didn't see or hear that" and told them all to "Get off the stage!"
In response to Angie's performance of "Shop Around" Nicki said rather harshly, "don't try to give us another side, we didn't ask for another side!"
When a camera cut away to Smokey Robinson, who was observing from the audience, his expression left little doubt that even he had been taken aback by Nicki's cutting remark.
Nicki's habit of bestowing Nicknames on all of the contestants has become one of her most talked about flamboyant traits. On Wednesday we heard Kree Harrison re-dubbed "Kreedom". Lazaro garnered two tonite with the familiar "Ricky Ricardo" and a newer one, "Fonzie". Janelle was "Little Marshmallow" and lastly, Burnell became "Sexy Doctor". Oh yeah, she also asked mentor, Smokey Robinson, if he would be her "Sugar Daddy".
Seeming to confirm what most fans already suspect, when Nicki was asked in the interview if there was any chance one of the 3 remaining guys could win American Idol Season 12, her response was "No, absolutely not". Okay then. I guess we have our answer to that lingering question.
While Nicki has been criticized for her language, her hair, and her tardiness, it hasn't diminished her complete confidence in herself and her comments on the American Idol judges' panel. When asked what her worst idol moment has been Nicki responded, "I don't have a worst idol moment. I've been spectacular".
Sources: TVGuide.com, American Idol Fox Network