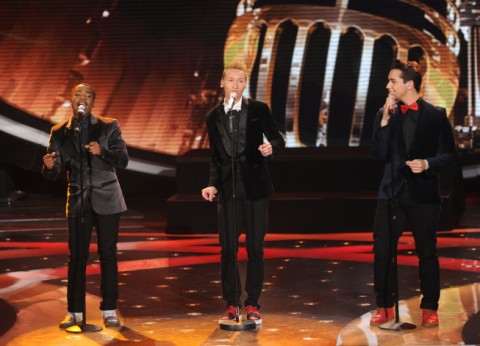 American Idol 2013 judge Nicki Minaj has been known to speak her mind and she really spoke it during a performance on Wednesday night's Top 8 performance show.
Fan favorite Lazaro Arbos joined the other two guys reminding in the contest, Devin Velez and Burnell Taylor, for a trio performance of I Can't Help Myself (Sugar Pie Honey Bunch) by the Four Tops. And to say the least, it was not good. And Nicki  let them know it.
"I don't know what that was but I'm gonna act like I didn't see it or hear it," Nicki said, noticeably irritated with the guys. "Lazaro, you fell as flat as a pancake. All three of you all go, get off the stage. Go, go."
Nicki was right that it was bad. Lazaro forgot the words and sounded awful, which set the other two guys up for failure. Devin tried to save Lazaro and Burnell seemed to do OK. But in the end, the three of them just didn't deliver. But was Nicki too harsh? That's debatable. I don't think it was too harsh. Simon Cowell, who most fans miss, wouldn't have been even that nice. So why isn't it OK for Nicki to speak her mind?
If you missed the show, we've got the the clip for you below. Was Nicki Minaj too mean to the guys? Please let us know what you think in our comments section below and take our poll to see how your opinions stack up.

Burnell, Devin & Lazaro – Can't Help Myself… by IdolxMuzic