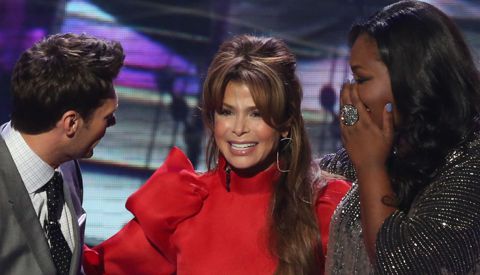 American Idol's Season 12 panel of judges have endured no end of criticism. From the inappropriate remarks of Nicki Minaj to the inability of Mariah Carey to put her thoughts into a cohesive sentence.
According to a recent report, Idol producers and executives of the Fox Network, quietly entered into negotiations with Jennifer Lopez, who sat at the judge's table for Seasons 10 and 11 of Idol. The negotiations were said to center around JLo returning to American Idol 2013 and joining the group of judges before the end of the current season. The plan to shake things up and hopefully provide a desperately needed boost in the ratings, was abruptly abandoned when Mariah Carey threatened litigation after learning of the plan.
A Fox spokesperson said in a statement that "This is just another ridiculous Idol judge rumor, likely started by talk of Jennifer (Lopez) performing on the finale". Producer, Nigel Lythgoe said, "I have not been included in any conversation regarding replacing Mariah with Jen this season."
On last Thursday night's episode, former judge, Paula Abdul made a surprise appearance, ostensibly to congratulate contestant, Candice Glover on her performance of Paula's hit, "Straight Up." The audience was thrilled to see the former judge back and gave her an enthusiastic round of applause as she re-claimed her seat at the judge's table, albeit only temporarily.
American Idol has taken an alarming dive in the ratings with their core demographic of adults aged 18-49. And the numbers have been declining steadily each week. The weekly performance episode on Wednesday is rating the worst numbers since the series debuted in 2001.
There has been much discussion and many opinions offered as to what Idol should do to revamp the current panel of judges. Is the rumor regarding JLo and the appearance of Paula Abdul meant to test the waters for their possible return to Amerian Idol next season? Tell us what you think.
Source: Fox Network, TVLine.com, AmericanIdol.com