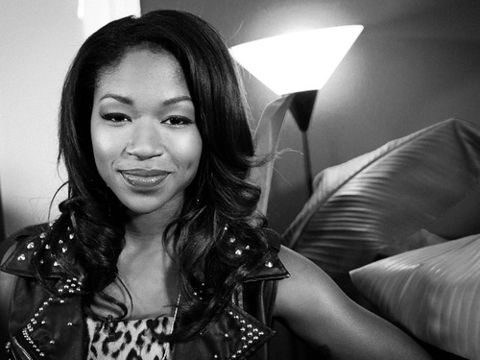 Tonight the American Idol 2013 Top 8 are taking on songs of Motor City. And even though the theme has been done before, we might be in for some new treats. According to our Top 8 song spoilers, it looks like the season 12 contestants dug a little deeper in the Motown songbook than past seasons. Well, for the most part.
As always, I'll be reviewing each performance and assigning the letter grade I think each deserved. Please follow along and comment with your own reviews and grades! The more opinions, the better!
The American Idol 2013 Top 8 Performances 
Candice Glover, I Heard It Through The Grapevine. I was a little disappointed to hear Candice was doing this song, but that's because I didn't imagine her putting the spin on it she did. I think the song as we all know is a pretty boring song. But she put a blusy spin on it and nailed it. It was a great way to start off the show. Candice is way talented. Grade: A
It's time for duets already? Well OK. Janelle and Kree took on Like A Prayer by Madonna and they're both great singers, but not that great together. If I graded duet/filler songs, I'd give this a B.
Lazaro Arbos, For Once In My Life. Well this was better than last week. By far. But is it Top 8 (or Top 7 worth)? No. He didn't hold one note and the one part in the song that the singer is supposed to sign, the back-up singers handled it. So yeah. Grade: D-
Janelle Arthur, You Keep Me Hanging On. I've been pretty impartial when it comes to Janelle, but I really liked her performance tonight. I love that she put a completely different spin on that song. Both times it was popularly recorded, it was an up-tempo song. So her slowing it down and playing along with her guitar was refreshing. Grade: A
Devin Velez, The Tracks Of My Tears. Devin's performance was very solid, but it was pretty boring, so I think he's in some real danger this week. I'd love for him to stick around and trade places with Lazaro on the popularity scale, but that's not going to happen. Grade: B+
Burnell Taylor, My Cherie Amour. I'm a Burnell fan, but this wasn't my favorite performance of his. I just found it pretty uninteresting. His voice/tone/pitch, as usual, were spot-on though.  And not to sound like Nicki, but I missed his glasses. I don't think changing your appearance on a singing show is ever a good idea. EVEN if it's just ditching your glasses. Grade: B+
Angie Miller, Shop Around. It was nice to see a different side of Angie. We've never really seen her work a stage like this to know how she'd handle a concert until now. And she handled it just fine. As far as the vocals go, it wasn't her all-time best moment. But she'll be just fine. So fine that I'm still about 99.999 percent sure that she's winning the show. (Oh and at least Mariah agrees with my idea that Angie should have performed I'll Be There at the piano). Grade: B
Amber Holcomb, Lately. Well that was boring. That's not the way to fight your way out of the bottom. I mean it was perfectly fine, but not exactly the best way to follow up a week where the votes were not in your favor. But I must be alone in this because the judges and Twitter loved it. I just thought it was fine. The judges were WAY INTO this. And of course I have my thoughts on why that was. She was in the bottom last week and they don't want her going home this week. So they hope their praise will boost her and push Devin out the door. Grade: B+
Well that guy trio performance was just awful. And I'm glad Nicki let them have it. Forgetting lyrics during Top 8 week? No way. Unacceptable. That gets an F-
Kree Harrison, Don't Play That Song. I've never heard this song, oddly enough. But I like it. Kree is a powerhouse. She has  yet to do anything wrong. She's great. Grade: A+
What did you think of the performances tonight? And the big drama of the night was Nicki's comments to Lazaro. Fans are not happy despite him forgetting his lyrics. What do you think?