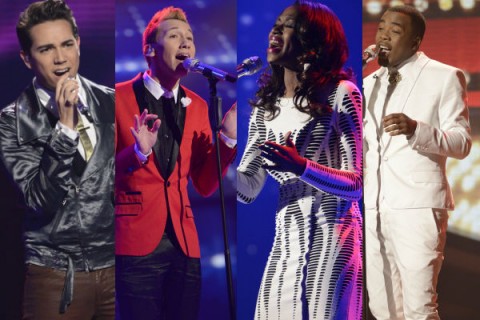 The American Idol 2013 Top 8 took on songs from the Motor City and as usual, the girls came out on top. And in yet another calculated move, the judges boosted the only girl at risk of being in the bottom and then tore down the three remaining guys in one fell swoop to ensure one of them goes home Thursday night.
So with all that in mind, it's time to take a look at how the performances went and how voting patterns MIGHT play out. Anything could happen with the votes Thursday night, but I think it's a safe bet that a guy will be walking out the door. Oh, and as always, please keep in mind that these thoughts are NOT my opinions, but how I think America will vote.
American Idol Top 8 Results Predictions 
100 Percent Safe: Angie Miller, Kree Harrison, Candice Glover
Most Likely Safe: Amber Holcomb, Janelle Arthur
Probably The Bottom Three: Lazaro Arbos, Burnell Taylor, Devin Velez
Possibly Going Home: Devin Velez
Scenario #2
100 Percent Safe: Angie Miller, Kree Harrison, Candice Glover
Most Likely Safe: Janelle Arthur, Lazaro Arbos
Probably The Bottom Three: Devin Velez, Burnell Taylor, Amber Holcomb
Possibly Going Home: Burnell Taylor
Thoughts: As I mentioned Idol has everything planned out this season. Even down to which spot people are performing in. They know just what they're doing. They're not cheating, they're just encouraging things to go the way they want. But anyway, I think Scenario #2 above is possible but less likely than the first one. I think Lazaro fans are going to feel sorry for him after Nicki yelled at him and give him more votes than usual. And Amber's exaggerated pimping from the judges will nudge her up, which will push Burnell into the bottom, with Devin going home.
Scenario #2 would only be if America decide that they agree with Nicki on Lazaro and Amber is the only other likely choice to fall into the bottom 3. And Burnell goes home if America gets mad at him for throwing Lazaro under the bus.
This is going to be a potentially interesting results show. And you can again bet 100 percent that if a guy is in the bottom the judges will NOT use their save.
Who do you think will be going home Thursday night?