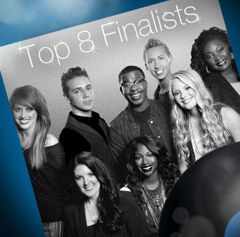 What can we expect from the American Idol finalists in the Top 8? We have American Idol spoilers for the song choices already to go along with the theme of "Motown Hits." These hopefuls are primed to take on these classics and we can't wait to hear how it turns out.
We've made our song suggestions as to what they should sing and for the most part, if the rumors are true, they've disregarded our ideas for some interesting alternatives. Fan favorites Angie Miller will be performing "Shop Around" by Smokey Robinson, who is this week's Idol mentor, while Candice Glover delivers "I Heard It Through The Grapevine." This should make for an incredible night of live show American Idol season 12 performances.
Will the boys survive another difficult week of fierce competition from the girls? We'd be surprised by that turn of events, but we're always ready to root for an underdog. By the end of the night we'll have a strong idea of who will be moving on to the Top 7 stage. Join us at 8PM for our live recap with video coverage of the Top 8 performance show.
American Idol 2013 Top 8 Live Performances:
Candice Glover — I Heard It Through the Grapevine — 1-866-436-5701
Lazaro Arbos — For Once in My Life — 1-866-436-5702
Janelle Arthur — You Keep Me Hangin' On — 1-866-436-5703
Devin Velez — The Tracks of My Tears — 1-866-436-5704
Burnell Taylor — My Cherie Amour — 1-866-436-5705
Angie Miller — Shop Around — 1-866-436-5706
Amber Holcomb — Lately — 1-866-436-5707
Kree Harrison — Don't Play That Song — 1-866-436-5708
Now vote for which Idol finalist you think had the best performance tonight on Idol and should move on to next week's show.