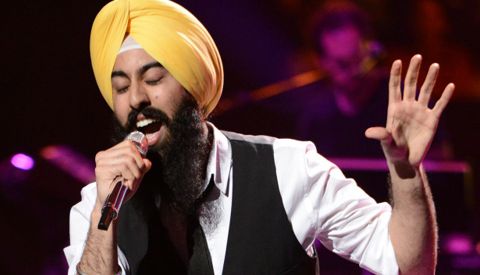 Want to know what the guys will be singing tonight on American Idol 2013? We've got your spoilers right here including performance order and song selection.
Each of these guys will have face "Sudden Death" with one chance to move on to the Top 20 for Season 12. If they pull it off then they're on to the next round, but if they fail they're sent packing with the promise of another chance another year.
American Idol 2013 – Guys Final Song List:
Bryant Tadeo – "Heaven" by Bryan Adams
Burnell Taylor – "This Time" by John Legend
Cortez Shaw – "Titanium" by David Guetta & Sia
David Willis – "Fever" by Little Willie John/Peggy Lee
Gurpreet Singh Sarin – TBD
Joshua "Josh" Holiday – "Imagine" by John Lennon
Lazaro Arbos – "Stronger (What Doesn't Kill You)" by Kelly Clarkson
Mathenee Treco – "A Little Less Conversation" by Elvis Presley
Nick Boddington – TBD
Vincent Powell – "'Cause I Love You" by Lenny Williams
If that level of revealing American Idol 2013 spoilers isn't enough for you then we've got even more leaks to offer. The guys' performances were taped last night before a live studio audience and those audience members have been leaking out details over the past two weeks. You can read tonight's Idol results right now and know exactly what to expect or you can sit back, wait, and enjoy the surprise during the broadcast.