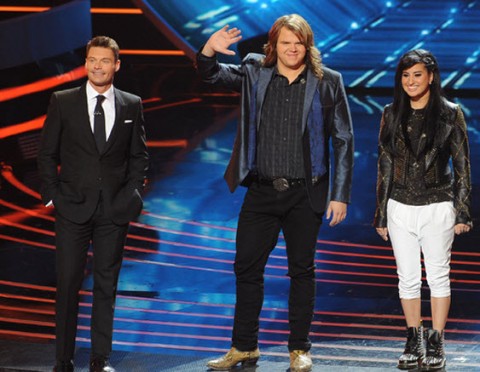 Last night on American Idol 2014 we said goodbye to Alex Preston. That means Caleb Johnson and Jena Irene will fare off next week in the grand finale.
So who has what it takes to win? Let's see if our final Power Rankings can help us determine it.
American Idol 2014 Final 2 Power Rankings
2. Caleb Johnson. What Caleb has going for him is that he's never been in the bottom three or two like Jena has. And he had a nearly flawless season until this week when he blew out a vocal cord. But he has had the whole scandal where he called his fans a derogatory name, even though that didn't seem to hurt him. His Twitter following is at 35,000, so he's got a lot of fans. But will he win American Idol? I don't think so. That's why he comes in at number two.
1. Jena Irene. I think Jena will become the 6th female to win American Idol. She had a rocky start to the season, but she has fought her way to the top week after week and now she's one week away from possibly winning. She's very relevant and unique and her fans are seemingly die-hard. At 48,000 Twitter followers, that's more than 10,000 more than Caleb. Of course next week's performances and her finale song will help decide, but I think this will be the final ranking. Jena first, Caleb second.
What do you think the final American Idol 2014 ranking will be? Who wins, Caleb or Jena?