The American Idol 2014 finale show arrives next week with a special schedule so pay careful attention or you could risk missing Caleb Johnson and Jena Irene in their final performances of the season!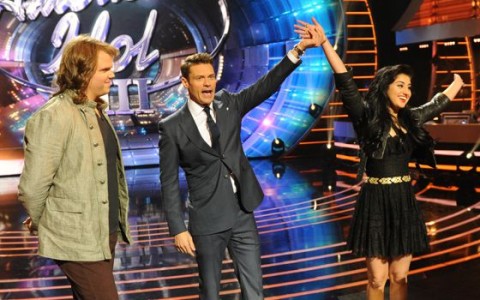 FOX's two-night American Idol finale begins next Tuesday, May 20, 2014 at 8PM ET/PT with a one-hour performance show featuring Caleb and Jena Irene in one last effort for your votes to put them over the top and be crowned the winner of American Idol 2014.
The next night, Wednesday, May 21st, the season's top finalists will return to the Idol stage for a two-hour and six-minute event starting at 8PM ET/PT through 10:06PM ET/PT. We'll get to see this season's best singers performing alongside music's biggest stars for some really fun duets and ensembles.
Once all that's done American Idol host Ryan Seacrest will dim the lights and open the envelope to reveal who won American Idol 2014! From there we'll get to hear either Caleb's or Jena Irene's coronation songs which will be their first single released after winning the season.
If you tune in on Thursday night you won't find anything Idol related on FOX, so be sure to adjust your DVRs for next week's season finale special schedule. If your DVR cuts off at 10PM on Wednesday night then you're likely to miss the actual reveal so get the whole thing recorded.
Join us through both shows as we live blog the whole event and discuss it live here with other fans!