The American Idol 2014 judges reveal the first big twist of Season 13 on Wednesday's Hollywood Week episode.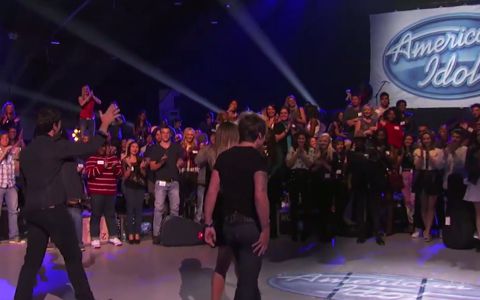 American Idol judges Jennifer Lopez, Harry Connick Jr., and Keith Urban break the news to the room full of Golden Ticket holders in the American Idol Season 13 preview clip below. JLo and Keith first offer up promising details of how the singers will get a chance to perform for the judges but then it falls to Harry to explain this isn't going to be good news for everyone.
"Congratulations on making it this far. We have such strong talent this year. We're going to have to take another look at some of you today," says Jennifer. Smiles all around the crowd.
"The last few days we've been reviewing everybody's audition again. We're going to be selecting some of you to come here and sing a song of your choice," explains Keith.
(click images to see full-size)
Wow, this sounds like great news right? A chance to show off in front of everyone because the judges want to hear more from you. Good, right? Not necessarily!
Harry drops the hammer. "There will be cuts made today. The stakes are very, very, very high. So we want everyone to take this as you will very, very seriously."
"The competition starts right now," says JLo.
Wednesday's American Idol 2014 episode features this new "Hollywood Or Home" twist where singers who received only two "yes" votes and even some that received all three will be forced to sing for their Idol lives. Those who are deemed unfit to continue will be sent back home before ever moving on to regular Hollywood Week events. Ouch!
>> Next: American Idol 2014 Live Recap: A Shocking Start to Hollywood Week! [VIDEOS]