We have lots of great American Idol spoilers about the upcoming final Hollywood Week round! The first three American Idol 2014 Hollywood Week rounds were full of great talent and the new judges' panel was a blast to watch. Hopefully the next stage of the competition will prove to be even more entertaining!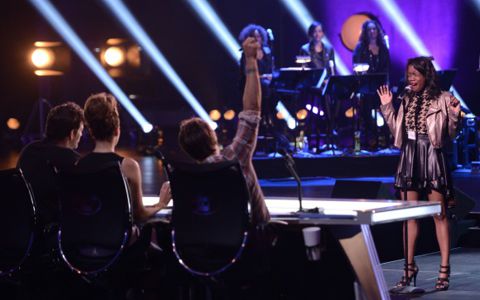 Below we have a list of song options for American Idol Hollywood Week round 4, and a partial list of the song choices made by the remaining singers in the competition at this point. Please note that our list is unfortunately not complete because our American Idol spoilers source, The Idol Pad, was not able to snag every single name and song selection.
* Naturally, this list includes SPOILERS about contestants who made it through the previous Hollywood Week rounds!
Song Options Include:
– original songs
– "Amazed" by Lonestar
– "Arms" by Christina Perri
– "As Long As You Love" by Justin Bieber
– "Breakaway" by Kelly Clarkson
– "Breakeven" by The Script
– "Bring It On Home To Me" by Sam Cooke
– "Burn" by Ellie Goulding
– "Counting Stars" by OneRepublic
– "Get Your Shine On" by Florida Georgia Line
– "Glitter In The Air" by Pink
– "Gone, Gone, Gone" by Phillip Phillips
– "Halo" by Beyoncé
– "I Believe" by Fantasia
– "I Was Made To Love Her" by Stevie Wonder
– "I Won't Give Up" by Jason Mraz
– "I'd Rather Go Blind" by Etta James
– "I'm Goin' Down" by Mary J. Blige
– "It's A Man's Man's Man's World" by James Brown
– "Let Her Go" by Passenger
– "Love On Top" by Beyoncé
– "My Kind Of Love" by Emeli Sande
– "My Wish" by Rascal Flatts
– "Radioactive" by Imagine Dragons
– "Skinny Love" by Bon Iver
– "Stars" by Grace Potter & The Nocturnals
– "The A Team" by Ed Sheeran
– "The Power Of Love" by Celine Dion
– "The River" by Garth Brooks
– "Torn" by Natalie Imbruglia
– "Try" by Pink
– "Unconditionally" by Katy Perry
– "Up To The Mountain" by Patty Griffin
– "Where Do Broken Hearts Go" by Whitney Houston
– "Where We Came From" by Phillip Phillips
– "Wide Open Spaces" by Dixie Chicks
– "Wrecking Ball" by Miley Cyrus
– "Your Song" by Elton John
Song Choices Include:
– Alex Preston – original song
– Bria Anai Johnson – "A Man's Man's Man's World" by James Brown
– Briston Maroney – "Let Her Go" by Passenger
– C.J. Harris – "Bring It On Home To Me" by Sam Cooke
– Caleb Johnson – "Radioactive" by Imagine Dragons
– Christina Collins – "I'm Going Down" by Mary J. Blige
– David Oliver Willis – "Bring It On Home To Me" by Sam Cooke
– Dexter Roberts – original song
– Emily Piriz – "Stars" by Grace Potter & The Nocturnals
– George Lovett Hamilton – "I Won't Give Up" by Jason Mraz
– Jena Irene Asciutto – "Unbreakable Me" (original song)
– Jessica "Jess" Meuse – original song
– Jillian "Jill" Jensen – original song
– Jordan Brisbane – "Halo" by Beyoncé
– Kristen O'Connor – "Unconditionally" by Katy Perry
– Majesty Rose/York – "Stars" by Grace Potter & The Noturnals
– Malaya Watson – "I Believe" by Fantasia
– Malcolm Allen – "I'm Going Down" by Mary J. Blige
– Marrialle Sellars – "Wrecking Ball" by Miley Cyrus
– Maurice Townsend – "Wrecking Ball" by Miley Cyrus
– Sarina-Joi Crowe – "Wrecking Ball" by Miley Cyrus
– Savion Wright – "Runaway Jane" (original song)
– Spencer Lloyd – "Ordinary Girl" (original Song)
Instrumentalists Include:
– Alex Preston – guitar
– C.J. Harris – guitar
– Casey Thrasher – piano
– David Oliver Willis – guitar
– Dexter Roberts – guitar
– Emily Piriz – piano
– Jena Irene Asciutto – piano
– Jessica "Jess" Meuse – guitar
– Jillian "Jill" Jensen – guitar
– Neco Starr – piano
– Savion Wright – guitar
– Spencer Lloyd – guitar
Standing Ovations Include:
George Lovett Hamilton