To start off Hollywood Week with a bang, we have an American Idol 2014 spoilers roundup of what we can look forward to in the next few episodes. Buckle your seat belts, because American idol season 13 is about to start racing full speed ahead!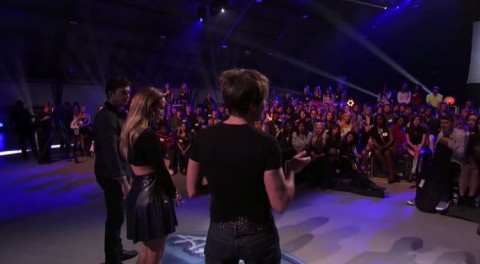 First up, we have details on the brand new twist this season with the Hollywood or Home round starting us off tonight. Then we have a slew of American Idol spoilers about the song list the contestants will have to choose from, what some of them will be singing in the various rounds, and who gets paired up with whom in the always scary group round!
We have the full list of American Idol season 13 Golden Ticket winners, along with photos and links to their auditions, road to Hollywood videos, social media accounts, fan pages and more!
>> Visit our 2013 Golden Ticket winners gallery.
Hollywood Week Approved Song List:
The American Idol song list has undergone a big update this year. Contestants will have a wider variety of songs to choose from, not just in Hollywood, but all season long. Plus, the approved song list will include more contemporary, modern music and current Top 40 hits.
>> Check out the 2014 Hollywood Week approved song list.
Hollywood Week Round 1 (Hollywood or Home):
The first round of American Idol Hollywood Week for 2014 will be a total surprise for the 212 Golden Ticket winners who arrive in Los Angeles. Before they even unpack their bags, they will be dragged off to an airplane hanger and forced to face the American Idol judges once again. Those singers who did NOT get three yes votes from Harry Connick Jr., Jennifer Lopez, and Keith Urban in the auditions round will have to sing again to prove they deserve to be in the Hollywood rounds.
>> More on the Hollywood or Home round.
Hollywood Week Round 2 (solo a capella):
Those contestants who survive the Hollywood or Home round will take the stage at the Dolby Theatre in Los Angeles for the solo a capella round in front of the judges. Another round of brutal cuts will be made to narrow down the field for the group round.
>> Get a sneak peek at the round 2 contestant song choices.
Hollywood Week Round 3 (group round):
In the much dreaded group round, contestants will be paired up with other singers to perform and will be given a short list of songs they can choose from. This is usually a very drama-fueled round where some of the contestants really start to show off their diva behavior, often leading to tears and yelling followed by terrible performances on stage. We think some of the group pairings this year are very… interesting.
>> Click for spoilers from the Hollywood Week pairings and song choices.
Hollywood Week Round 4 (final solo performance):
Before the final selection of contestants for the semifinals, the American Idol judges will watch the remaining contestants sing solo one more time. Another huge group of hopefuls will be sent packing.
>> Major spoilers on contestants who survived to round 4 and their song choices.
Top 31 Contestants Revealed:
After the grueling test of strength and determination that is Hollywood Week, the American Idol 2014 Top 31 contestants will finally be revealed. Then viewers will vote to decide for one of those Top 31 contestants to be eliminated, leaving us with the Top 30 semifinalists.
>> Find out who made the season 13 Top 31!
Stay tuned with us all week long for the latest American Idol 2014 Hollywood Week spoilers, news, recaps and more!