Here are your American Idol 2014 spoilers for the Top 8's return to the stage tonight featuring all of last week's performers after the Judges moved to keep Sam Woolf in the race following his elimination.
*UPDATE* – Watch the American Idol Top 8 performances in our full recap of Wednesday night's show!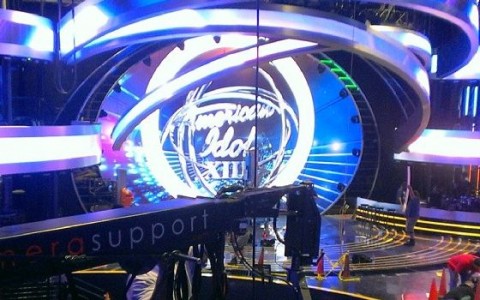 With no Save left in the game the singers are completely on their own to win over the audience with no help from the American Idol judges in the case of shocking results. The Top 8 will need to give it their all tonight so if you thought last week's show was great then we should all be in for a treat tonight.
These American Idol spoilers come at us straight from the 80's, a decade gone by before many of these artists were even born so they probably don't have any neon sunglasses, slap bracelets, or cassettes laying around in an old drawer somewhere, but that's okay.
Here's what we'll be hearing from each of the American Idol 2014 Top 8 contestants during tonight's live show, according to TVLine:
Alex Preston: The Police's "Every Breath You Take" (previously done by Brooke White and Phil Stacey)
C.J. Harris: Tom Petty's "Free Fallin'" (never performed before on Idol)
Caleb Johnson: Journey's "Faithfully" (previously done by Hollie Cavanagh and Kristy Lee Cook)
Dexter Roberts: Georgia Satellites' "Keep Your Hands To Yourself" (never performed before on Idol)
Jena Irene Ascuitto: Joan Jett and the Blackhearts' "I Love Rock N' Roll" (never performed before on Idol)
Jessica Meuse: Blondie's "Call Me" (previously done by Haley Reinhart and Carmen Rasmusen)
Malaya Watson: Chaka Khan's "Through The Fire" (previously done by Siobhan Magnus)
Sam Woolf: Cyndi Lauper's "Time After Time" (previously done by Colton Dixon, Brandon Rogers and Nadia Turner)
* UPDATE: Click here to listen to the studio recordings of the Top 8 songs leaked earlier today!