In our American Idol 2014 recap tonight, the Top 8 take the stage again and this time they'll be taking on songs from the 80's. We're dearly hoping for some of the best American Idol performances of the season this evening based on the song list leaked earlier today.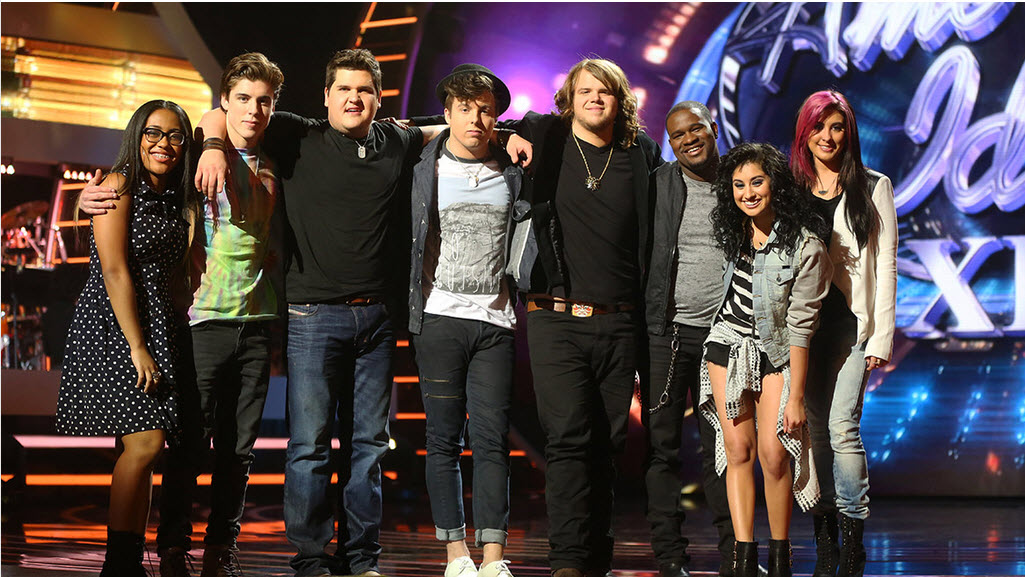 We are especially looking forward to Caleb Johnson following the American Idol judges' advice to show off his softer side this evening with "Faithfully" by Journey. Although, we are still hoping he'll have the chance to pull out a Freddie Mercury/Queen or Meat Loaf song sometime soon. We wish we had the American Idol spoilers for the #idolrequest week songs if those have been decided yet, because that's the week we might see Caleb finally do Meat Loaf!
Another one of the American Idol performances we think could be great tonight is Jena Irene Ascuitto with "I Love Rock N' Roll" by Joan Jett and the Blackhearts. Jena originally said she was "going back to the piano" this week to do a "fan favorite" song… so we're wondering what's going on there. This song has never been done on American Idol before, maybe she means a fan favorite suggestion on Twitter? And it doesn't really seem like a piano tune… Perhaps she changed her mind, it's happened before. Or we're about to see a very interesting version of this song.
All of the song choices tonight are interesting, and there are some other possibly great picks, like Dexter Roberts doing "Keep Your Hands to Yourself" by Georgia Satellites and Jessica Meuse doing "Call Me" by Blondie — previously done by Haley Reinhart and Carmen Rasmusen on the show.
The ones that worry us are Malaya Watson taking on "Through the Fire" by Chaka Khan, because Siobhan Magnus already did it and killed it, and Sam Woolf doing "Time After Time" by Cyndi Lauper. This song has already had three American Idol performances by Colton Dixon, Nadia Turner, and Brandon Rogers. It was actually one of Colton's best songs on the show. We really don't see Sam topping that version, and this song in particular just seems like it could go very monotone and flat for a singer like Sam.
And here we go… THIS is American Idol!
To kick off the show tonight, we have a brief recap of Sam Woolf getting saved at the end of the show last week. Then we get a video montage 80's style of the celebration of Sam not going home, which really looked more like someone winning the show than barely avoiding elimination.
Who's that? Why it's former American Idol winner David Cook in a glimpse at the Top 8 preparing for this week. After more cheesy 80's graphics, the Top 8 finalists enter from backstage with each one saying their name and "I'm the next American Idol." Host Ryan Seacrest enters after them and says he can't say he's the next American Idol, but let's get this show started!
Ryan introduces the Top 8 finalists and then, of course, the American Idol judges. Jennifer Lopez has son fluffy hair tonight in an 80's poof and yet another super short skirt. Harry looks dashing as always and not at all 80's… but Keith is looking a bit scruffy and has a fake mullet with clip on hair!
And now we get an awesome montage of former American Idol winner David Cook, one of our favorite finalists ever. The American Idol season 7 champ's performances were some of the most iconic on the show ever, including "Hello" and "Billie Jean" — both songs from the 80's. Wearing very 'smart people' looking glasses, David mentors the Top 8 on how to stand out for the right reasons in their performances.
American Idol 2014 Top 8 Performances (Redux):
Jena Irene Ascuitto: Joan Jett and the Blackhearts' "I Love Rock N' Roll"
Judges:  Keith Urban says it was a great way to start the show. He loved the arrangement change up and kind of dug it. It was cool to start on the piano and how it kicked into gear. He loved the originality, although the key seemed a little low at the start. Jennifer Lopez thought it languished a little in the middle. But she liked it that Jena put her stamp on it and made it her own. Harry Connick Jr. didn't love the arrangement, but he liked her continuing to push. He thinks it was a bit too stiff though and she needed to loosen up.
Vote for Jena Irene:
Dexter Roberts: Georgia Satellites' "Keep Your Hands To Yourself"
Judges: Jennifer Lopez says Dexter just always comes out and sings kind of perfect. She thinks he was really good today and had personality. Harry Connick Jr. says Dexter can almost do no wrong tonight because of his performance last week and this week was good too. Keith Urban thinks the first part was a little stiff but he loosened up. Keith wants him to just do something totally unexpected and let loose in the moment.
Vote for Dexter Roberts:
 Alex Preston and Sam Woolf – "The Girl Is Mine" by Michael Jackson (Duet)
Malaya Watson: Chaka Khan's "Through The Fire"
Judges: Harry Connick Jr. feels like she was staging the start of the song too much to prepare for the big notes in the end. Overall the American Idol judges don't really seem blown away by the performance. We thought it was good, but not terribly exciting this evening. Malaya did seem a little more controlled this evening than usual, which was good for her vocal control but she lacked some of her contagious exuberance.
Vote for Malaya Watson:
We interrupt our recap for a brief moment of judge Harry Connick Jr. saying he "cant' stand it" anymore and leaving the judges' table to invade the screaming crowd in front of the stage. Yeah, he's weird.
Caleb Johnson and Jena Irene Ascuitto – "It's Only Love" by Tina Turner and Bryan Adams (Duet)
Jessica Meuse: Blondie's "Call Me"
Judges: Harry Connick Jr. doesn't seem to be in love with the performance. He thinks Jessica wasn't feeling it enough and wasn't really in the pocket. Keith Urban says it all still seems like Jess is "close to the door and ready to go into the party" but she's not in there yet. J-Lo says Blondie was looseness and sexy cool, and it needs to be a sexy song and if you can't let loose and tap into that, it's not a great song choice for her.
Vote for Jessica Meuse:
Sam Woolf: Cyndi Lauper's "Time After Time"
Vote for Sam Woolf:
Judges: Keith Urban says he loves that Sam did the song with an acoustic guitar. He teases that Harry didn't get the same kind of looks from the girls when he went in the audience! J-Lo thinks Sam did a great job tonight and his simple version really showcased him. She thinks he did better with feeling the song. Harry thinks he is getting better every week, but once again he was looking into the camera the whole time and not at the audience and connecting. He tells Sam to look up young Ricky Nelson for inspiration and watch what he does.
 Malaya Watson and CJ Harris – "I Knew You Were Waiting" by Aretha Franklin and George Michael (Duet)
Alex Preston: The Police's "Every Breath You Take"
Judges: Harry says Alex put his own spin on the song and that was great. However, he thinks there is a difference between a performer and an entertainer, and Alex is still too "coffeehouse" and needs to be more of an entertainer. Keith says when Alex starts singing, he always grabs his attention. He says it was bold undertaking rebuilding the song like he did, but he needs to push and pull the song a bit more to make it into even more. J-Lo disagrees with the guys and says that while she loves Alex's song, she did not like how much the song was changed. She thinks he lost the soul of the song.
Vote for Alex Preston:
Dexter Roberts and Jessica Meuse – "Islands in the Stream" by Dolly Parton and Kenny Rogers (Duet)
CJ Harris: Tom Petty's "Free Fallin'"
Judges: Jennifer says there has been a contestant she has rooted for note by note every single time. She thinks it started off shaky but by the end… he just has the ability to touch peoples' hearts. Harry says CJ just has a connection every time he gets up there. He says CJ was in tune on the high notes, but pretty much implies the low parts weren't so much on pitch. Keith says it was a great rendition of the song and CJ has a 'survivor' tone to his voice that he's going to rise up and survive no matter what.
Vote for CJ Harris:
Caleb Johnson: Journey's "Faithfully"
Judges: The audience is very loud as the judges try to talk. Harry says it was exciting watching Caleb to walk out because everyone was expecting a strong vocal and to listen to him sing something more subtle. He says Caleb did and he is proud of him. Keith Urban says it was the perfect song choice for him and it was great. He weirdly compares it to a "fanny pack" – being all about function, not flash. J-Lo says she could tell Caleb was a little out of his comfort zone in the beginning. Harry challenges her on it and tries to speak but J-Lo ignores him. She thinks he couldn't wait to get to the high notes and then blew it out.
Vote for Caleb Johnson:
>> NEXT: Find out who went home in our full recap of the Top 7 results show here!