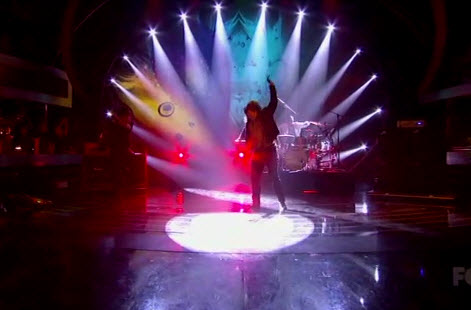 The American Idol 2014 Top 3 took to the stage to fight for a spot in next week's finale. And I have to say, it wasn't a front-runner who shined this week.
Alex Preston stood out more than Caleb Johnson and Jena Irene, who have both emerged as front-runners in the past few weeks. Does that mean Alex has secured his spot in the finale? I think it's possible. He had smarter song choices and his vocals were not flawed in any way.
That being said, I didn't really like many of the song choices. Some were smarter than others because they were young and "hip," so that might help pull in some votes. But overall, I was very disappointed and bored with song choices.
As always, I'll be reviewing each performance and assigning the letter grade I think each one deserves.
Randy's picks
Caleb Johnson, "Never Tear us Apart." The best song choice of the night, I'm awarding this one. When I say best, it's not the same as when I say smart. So keep that in mind throughout this recap. Caleb has a blown vocal cord, so I'll go easy on his vocals. I could tell in a few spots that he was having problems, but overall, he handled the song well. Performance Grade: A-
Alex Preston, "Pompeii." Smart song choice. See what I did there? It's fresh and young and may bring in some voters, but it's not my favorite song. The performance was quite solid though. Alex really made it his own and he really had a fight in him. He wants in that finale and it shows. Performance Grade: A
Jena Irene, "Titanium." Smart song choice? I don't know. I think the song is very overdone already, so I'm going to say know. It just wasn't my favorite performance of hers. She handled the high notes fine, but only after a shaky start. I think she definitely loses round one. Performance Grade: B
Judges' Picks
Caleb Johnson, "Demons." First we had a good song choice for Caleb, now we have a smart one. Imagine Dragons are still pretty hot right now, so this song choice can only do him favors. His voice is still a little shaky, but he's holding his own. He's a natural. Performance Grade: A-
Alex Preston, "Stay." Interesting song choice, I'll say. I never would have picked it for him, but for some reason it actually worked. So far, Alex is owning the night. Will voters see it? I'm not sure. It's pretty clear based on this performance. Very nicely done. Performance Grade: A+
Jena Irene, "Heart Attack." Sure it's a young song choice, but it's not a singer's song. It's a studio performer's song, just like Demi Lovato. I'm just not happy with her first two song choices. But she did sing it better than Demi ever could, so there's that. Performance Grade: B+
Hometown picks
Caleb Johnson, "Dazed and Confused." Another good song choice for Caleb. It wasn't as good as the first two, but I'm also seven performances in and I'm ready to get this over with. OK, I'm only sort of serious. Caleb I think will make it into the finale for sure. It's going to be a fight between the other two, I think. Performance Grade: A
Alex Preston, "Story of My Life." Alex officially had the smartest song choices of the night. It almost seems like producers were trying to boost him with these songs. You can't go wrong with One Direction when it comes to young voters. And Alex again sang it beautifully. It was much better than One Direction. Performance Grade: A
Jena Irene, "Creep." Finally, a good song choice for Jena. I was very happy to hear her sing this again. It was probably my favorite song of hers from the season. And while it was better the first time, it was still emotional and strong. I really liked it. She needed this after those first two songs. Performance Grade: A
What did you think of the American Idol 2014 Top 3 performances?