The American Idol 2014 Top 3 have made their hometown visits and they've performed their final songs before the finale, so the only thing left is for one more person to go to give us the final two. So who will go and who will go on to the finale? It's not easy to say.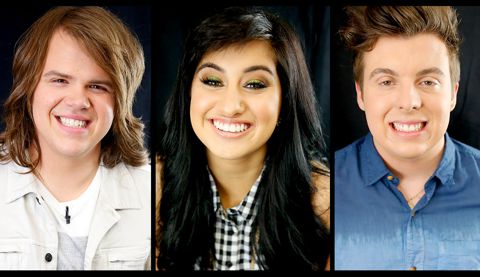 * UPDATE: Click to find out who went home on American Idol tonight in our full recap from the Top 3 elimination results show! 
In fact, this is the most unsure I've ever been of who will be in the finale. I have never been more unsure of a who is going home post either. This is tough. But let me give it a shot.
Who will go home tonight on American Idol 2014?
Possibly the Final Two
Jena Irene and Alex Preston. I think saying Jena and Caleb is too predictable. And this season has been anything but predictable. And after Alex's solid night last night, I think he might just squeak into the finale. Will he win over Jena if that's the case? No. She will win.
Probably Going Home
Caleb Johnson. I think I'm wrong here. It's probably Alex going home, but I have a gut feeling about this. What if Jena goes home and the final two are Alex and Caleb? That would throw everyone for a loop wouldn't it? Oh well, if I'm wrong I'm wrong. This is what I'm sticking with.
Who do you think will make it into the American Idol 2014 finale?