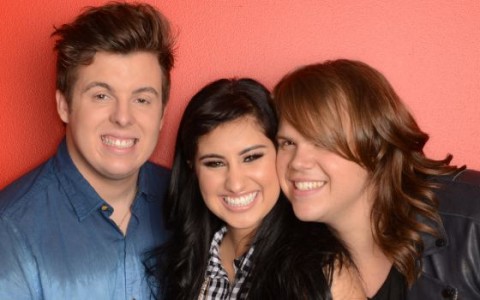 The American Idol 2014 Top 3 will be singing three songs each this week. One will be a reprise from an earlier performance, another will be picked by the judges and a third will be mentor Randy Jackson's choice.
Spoilers are already out on which songs the three will be reprising, so let's focus on what Keith, Harry, Jennifer and Randy should pick for the Top 3.
So what should the American Idol 2014 Top 3 sing?
(I'll just be suggesting a few songs for each)
Jena Irene. For some reason I'm getting some Janet Jackson for her. Something like "Black Cat" or "Nasty." I prefer Jena doing classic and/or chick rock, but I could see her doing some Lorde also. She could pull that off well. But I keep going back to some fun, more classic stuff. Like "Total Eclipse of the Heart" or "Crazy on You" by Heart.
Caleb Johnson. We know by now Caleb can make anything his own, so it would be fun to hear him take on something like Mariah Carey (like David Cook did "Always Be My Baby"). But I'm going to stick within his genre. Maybe "Madness" by Meuse. Or maybe finally he can do Guns N Roses like I've been saying all season. "Welcome to the Jungle," "November Rain" or "Sweet Child Of Mine" perhaps.
Alex Preston. Alex really needs to do something different if he wants to make it into the finale. he's never really done anything out of his comfort zone, so it's time for him to do that. But he probably won't, so I'm just going to pick some songs that might suit him. "Night Moves" by Bob Seger could be fun. Or "Crash" by the Dave Matthews Band. But really I just want him to sing "We Can't Stop" by Miley Cyrus, since I've seen him cover it on YouTube before.
What would you like to hear the American Idol 2014 Top 3 sing this week?