Quentin Alexander shared an emotional exchange on Wednesday night when American Idol 2015 Judge Harry Connick Jr. confronted him over comments which he took as detrimental to the Idol operation. After the show the Judges discussed what they thought of the Quentin & Harry debate.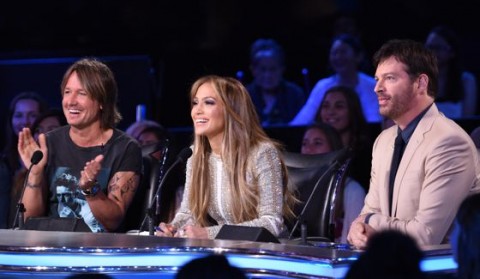 FOX Audio Central caught up with all three of the American Idol Judges and asked them about Quentin's comments that made such an impact on the night.
Keith Urban was very supportive and understanding of Quentin's response to seeing his two close friends end up in the Bottom Two:
"I think when Quentin said what he said, I knew exactly what he meant.  I mean he was meaning it's just a bummer.  It's a bummer that these two have to be here. 

But, you know, the thing, what I love about the older – I was going to say alumni, but they're not alumni yet – but the contestants, I hate that word, all the guys and girls competing, they form such a cool bond with each other.  So of course they get that they don't want to see anyone in the bottom two."
As for Jennifer Lopez, her advice to Quentin would be to keep it to yourself:
"This show business and it's always about, for me and what I've learned over the years, it's about putting your best foot forward. 

You know, nobody at the end of the day wants to deal with all of your emotions all the time because we are such emotional people.  It's not that you can't have those emotions; it's that when you're on stage that's not the place for them."
Harry Connick Jr., who facilitated much of the situation, said he wasn't offended, but thinks Quentin should have reconsidered his approach:
"It's an emotional thing.  I just think you have to remind yourself, you know, why you're here.  It is a competition, and I think probably after the fact he realized maybe that wasn't the best approach but I didn't take any offense to it and I'm sure he didn't mean any personal disrespect to anyone."
What do you think of the situation? Was Quentin right to say what he said or should he have held it in like Jennifer Lopez suggests?
Jump ahead to 3m45s in the video clip below to see how it all went down.