Rumors are swirling that American Idol 2015 Wild Cards are back this season and you'll have another chance to see some of this week's eliminated contestants.
Update: More information has revealed that only the Top 16 contestants will be eligible to return. Singers eliminated during the Top 24 to Top 16 transition are officially out of the race.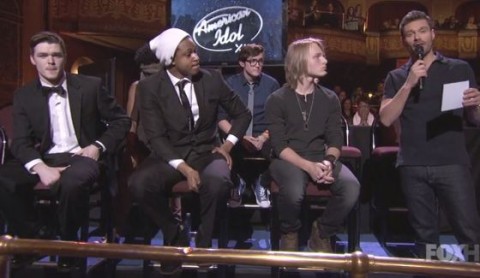 According to MJs Big Blog there will indeed be the return of wild cards for Season 14 and that will come in to play next week as the Top 16 prepare to learn their fate. But wait, there's more. Not only will this week's performing contestants be eligible for the comeback save, but also the singers who were cut on Wednesday and Thursday.
The choice to bring back singers who didn't even perform this week seems like an odd choice as they'd get to skip right over the Top 16 round, but of course while the rumors are credible they are still rumors. It's entirely possible that this is all up in the air for who American Idol producers will decide to keep in the eligible pool of wild cards.
The alleged schedule of events for the American Idol 2015 Wild Cards will shift things around next week for the Top 12's performances. Remember that another four contestants, two guys and two girls, are set to be eliminated based on your voting this week with those results in the upcoming week.
What's supposedly going to happen is another pre-recorded performance show next Tuesday featuring the results from this week with the reveal of the Top 12. Then the most recently eliminated six guys and six girls will be back to find out if they'll return to the competition. If all 12 perform that'd be a lot and they'd have to move fast, but not impossible I suppose. The more likely option could be the Judges hand pick out a few of them from each gender to perform again.
The Wild Card episode won't air until next Wednesday, a day after it's filmed, so we should have spoilers early on what happened. If America votes on the Wilds then that'll happen on Wednesday night, but if it's a Judges' pick it could happen Tuesday with the results quickly known. Then Thursday would offer our first truly live performance and elimination show.
What do you think of American Idol bringing back the Wild Cards? Is this a perfect opportunity for a second chance or just another round of singers that America already voted off?
Source: MJs Big Blog