American Idol spoilers have leaked revealing the results of who made it to the Top 16 thanks to the results show and performances being taped in advance this week in Detroit before its broadcast on FOX.
Update: Full list of Top 16 elimination results have now been revealed in the article below.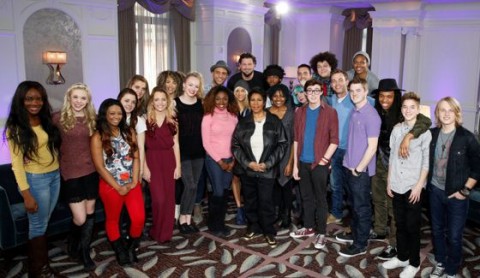 Want to know if your favorite contestants made the cut to the American Idol Top 16 for Season 14? We have your spoilers here thanks again to The Idol Pad!
There were four eliminations for the guys and another for the ladies leaving us with an ever narrowing field of contestants looking to become the next Idol winner. The guys' results were revealed on Wednesday and the ladies's results will arrive on Thursday.
American Idol 2015 Top 16 revealed:
Find out what songs these surviving contestants will be singing this week for Top 16.
Unfortunately for these following singers, they did not make the cut in your votes they will be eliminated in this week's American Idol episodes. Prepare to say goodbye to these contestants:
Update: We now have the full list of eliminated singers, thanks again to Idol Pad.
American Idol Results – Top 24 Eliminated Contestants:
click images to see full-size views
Wow, I'm impressed with the readers here! You all helped correctly predict 3 of the 4 eliminated guys this week based on your votes in our readers' poll. Well done! Now as for the ladies, our poll was 0 for 4 on those predictions. Ouch! How interesting though.
Next week these remaining singers will head to Los Angeles for the Season 14's first live broadcast performance shows where another elimination will yield the Top 12 finalists for American Idol 2015.
Wild Card rumors suggest we might be seeing these eliminated singers back again though so don't feel too bad if you're favorites were cut this week.
American Idol 2015 Top 16 Revealed: